Thank You PWC and First Responders for Keeping Us Safe
Well, there's nothing like back-to-back snow storms to prove the mettle and patience of any community. As you read this editorial, the weather is probably mild, over 50 degrees and sunny with absolutely no hint or residue of the treacherous snow and ice storm that recently plagued our community less than a week ago.
Ah, life in the south. Where else can you play golf one day and be covered in snow the next? As I listened to the regional, statewide and nationwide reports on how these devastating storms were affecting our nation, I could only think of how proud I was of the way Fayetteville and the Cumberland County community responded to the nastiness of this dangerous and freaky winter weather.
Our local government officials, both city and county, were at the top of their games making quick and timely decisions that put the safety and welfare of our residents as their highest priority. From opening up shelters to the timely closing of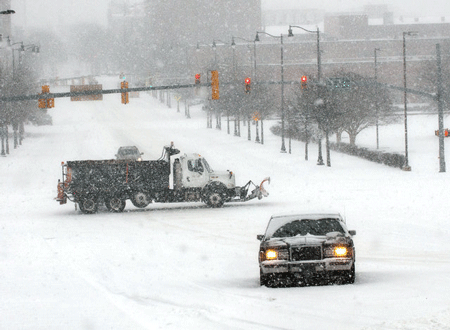 schools, government offices and businesses, our leadership made all the right decisions at the right time.
As damage from wind, frozen rain, heavy ice and snow generated reports of fallen trees and downed power lines leaving tens of thousands of people without electricity and heat, Fayetteville and Cumberland County suffered no such travesty. And, for this, we must give thanks and credit to the dedicated men and women of our local PWC and our fearless, relentless hard working first responders. Police officers, utility linemen, snow plow operators, firemen, EMS personnel all working together in concert to keep our community safe. No doubt these organizations were prepared and at the top of their game.
Some will say that Cumberland County was really lucky not to have been ill affected by this recent storm. However, many more will say that Fayetteville and Cumberland County made its own luck by having those smart, dedicated leaders and loyal hard working people all in the right place at the right time to help us forge ahead and react to what could have been a very tragic situation.
We also need to thank Cumberland County Schools Superintendent Dr. Frank Till and school officials for making wise decisions about closing schools and keeping our children safe. There was some rumbling in the community about the school closings, but those questioning the decision do not see the big picture. Our county schools serve children who live in remote areas of the county, many of which did not see sand or salt trucks until several days into the storm. Dr. Till must look at the safety of all the children in the community – not just those who live in the city proper. These were smart and prudent decisions that again prove good leadership perpetuates itself.
Stay safe and enjoy reading your Up & Coming Weekly.
Photo: Fayetteville first responders did a great job keeping people safe during last week's snow storms.