Fayetteville: We Are Family
Who doesn't have a crazy aunt in the attic? Who doesn't love to eat sausage, but hate watching it made? Almost everyone I know, unless they are lying. I'll wager those statements are true for most of us. That doesn't stop us from going about our daily lives conducting business as usual. It is comforting to know that as we deal with the day-to-day needs, challenges and developments in our community we have not forgotten the important elements that define Fayetteville, our community and our quality of life ... it's people.
Here's proof. Last week, Kidsville News, Inc., hosted its 10th annual national publisher's conference. By design, we invite our clients to Fayetteville on 4th Friday weekend to intentionally showcase the many positive aspects of our community. Why? Because it reflects positively on Kidsville News!, and the experiences my clients participate in assure them they have made a sound decision in choosing to do business with Kidsville News! and bringing it to their communities. In three days, we manage to send a little bit of Fayetteville back to cities and towns from San Antonio, Texas to Portland, Maine. Sweet!
It was a beautiful thing to see and experience. During their visit they met and interacted with local residents, the Mayor of the City of Fayetteville, Cumberland County Commissioners, business owners and educators. They stayed in local hotels, dined in local restaurants, visited our Historic Downtown and the Crown Coliseum. Needless to say, we made the most of the time they spent with us. However, the warm and friendly hospitality shown by local residents was "genuine" Fayetteville.
The point? As we face the challenges of a growing community head on,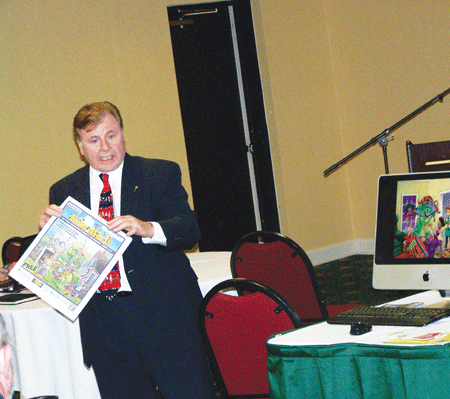 we will deal with things like crime, homelessness, unemployment, where to host the farmer's market, economic development, new taxes or no new taxes, parks or no parks, tainted water and what to do with the Prince Charles Hotel just to name a few. Local issues like these are important but do not and should not change the nature or personality of our residents. In the most candid ways, the true nature of our community came shining through leaving a polished, positive and lasting impression with our guests.
I want to say thank you to the staff of Kidsville News!, Up & Coming Weekly and the entire Fayetteville community for again making us proud to call Fayetteville home. We have much to be thankful for. Our future looks bright. Thanks for reading Up & Coming Weekly.
Photo: Kidsville News! hosted its annual national publisher's conference this week and shared a lot about the community with publishers from around the country.