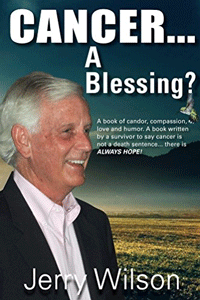 Local author Jerry Wilson is a survivor. He beat cancer twice and lived to tell the tale. His book, Cancer … A Blessing? chronicles his fight and was written in the hopes of encouraging and inspiring others who face tough battles in their lives.

Wilson is originally from Fayetteville but left in 1968 after he was married. He came back 39 years later to retire. His book chronicles his many real life experiences going through chemo and proton therapy. He specifically said that anyone who has been diagnosed with prostate cancer and hasn't looked into proton therapy is making a huge mistake. Proton therapy is based out of Jacksonville, Fla., at Florida University at the Proton Therapy Treatment Center. While in Jacksonville for his treatment, he decided to give himself something to do with his time, so he started a blog, which he liked to call his journal. In this blog he would talk about every aspect of his day, such as his treatment process, what he had for lunch, who he met, if he took a nap and so on.

When he returned from his treatment, he was strongly encouraged by readers to write a book on his story. It was then he decided if he was going to write a book, it was going to include his first cancer battle of Stage 4 Lymphoma, in 1997.

"Being told you have Stage 4 cancer is scary because Stage 5 is usually your local funeral home," said Wilson.

He uses humor regularly in the book but he never loses sight of the serious disease he is dealing with. He calls himself the poster child for chemotherapy because he was essentially the guinea pig. When going through the process, he stresses the importance of attitude. He gives credit to his incredible oncologist, his attitude and his faith for his survival. Wilson talked about a nurse in the hospital he spoke with during his treatments that had a brother with Stage 2 Lymphoma, She told him that her brother's attitude was not positive like his, and if he could maybe speak with him she would appreciate it. Wilson called the brother only to discover he was one of the most negative people he had ever spoken with, and couldn't seem to shake him out of it. Two weeks later, the brother passed away. Wilson said that in this moment, his whole body went numb because this person was only at Stage 2, making him wonder how someone with Stage 4 could not be the next to go?

Reading his book is like speaking to him on the phone or over coffee; it's a conversation. This book is already a bestseller in his eyes because he has helped someone cope with cancer. That was his goal, and he has accomplished it.
He never wanted to make lots of money from this book, but wanted to be wealthy in a different way — the wealth that comes from helping people.
"This book is not just for a cancer patient, but for anyone to read. It could even be for someone dealing with a family member diagnosed with cancer," said Wilson.

Over the course of a year, this book is now published and being sold on amazon.com, through kindle and occasionally, because he carries copies with him, at his sister's beauty shop. He has sold more than 200 copies. His customer reviews on amazon.com are impeccable. On the back cover of the book, there is a quote by the senior pastor at Snyder Memorial Baptist Church, Rev. John Cook, "We affectionately call Jerry, "Job," because of the many challenges he has faced and overcome in his life. He battled and beat cancer 17 years ago, and he lost his precious wife, Scottie, unexpectedly last July. Any one of those events by itself could bring a man to his knees … not only has he weathered these storms with his faith intact, but he has been an inspiration to all of us. He loves the Lord with all his heart, and Jerry knows it is God's grace that has brought him safe thus far."
Wilson has a book signing at Gates Four Golf and Country Club on Thursday July 24 from 6:30 to 8 p.m.

"Growing old is mandatory, but growing up is optional. I'm a kid at heart," said Wilson.