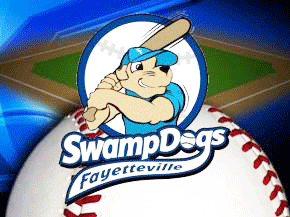 The playoff chase hits the home stretch this week at The Swamp as Fayetteville SwampDogs look to keep the ball rolling with another exciting and busy week of baseball. But of course, at J.P. Riddle Stadium the game is not the only exciting thing going on.
This week as always, The Swamp is the place to be for a fun time for all members of the family.
It all starts on Wednesday, July 30, against the Morehead City Marlins at 7:05 p.m. The SwampDogs will look to capture the luck of the Irish on Summertime St. Paddy's Day! The first 500 fans in attendance 21 and over will receive a souvenir worthy of a river dance, courtesy of our friends over at Healy Wholesale.
Don't forget that morning to head out to Dunkin' Donuts for Wake Up Wednesdays to meet SwampDogs players and FunGo! Remember, America — and the SwampDogs —runs on Dunkin'.
The fun continues on Saturday, August 2, as the SwampDogs host the Columbia Blowfish at 7:05 p. m. Don't miss your last chance of the summer to see Fayetteville's best fireworks show, taking place at the conclusion of the game. You're not going to want to miss out on the very special fireworks extravaganza, everyone in town is sure to be talking about it.
That night will also be fan appreciation night, with giveaways and prizes being handed out all night long.
Monday, August 4, will be your last chance of the regular season to watch the Dogs, as they play a doubleheader against the Florence RedWolves starting at 6:05 p.m. on Back to School Night. Come cheer on the SwampDogs as they make their final push toward the Pettit Cup Playoffs.
Don't forget that game will be the final Mug Monday of the year. On Monday home games, fans purchasing a 16 oz. souvenir mug will get free entry into the Miller Lite Liberty Lounge. The Mug is reusable for the rest of the season, and will get fans free access to The Lounge during every Monday home game.
Once you are in the Miller Lite Liberty Lounge enjoy $1 beer, burgers and dogs, $2 wine and free popcorn, peanuts and soda while watching the game from some of the best seats in the house. It's a great deal, any day of the week.
Make sure to make your way out to The Swamp this week for all this — plus a few surprises. It is sure to be affordable fun for the entire family.
Like the team on Facebook at www.facebook.com/GoSwampDogs, follow the team's Twitter and Instagram accounts at @GoSwampDogs and keep updated on highlights, player interviews and much more at www.youtube.com/GoSwampDogs.
For tickets to all of these great games, for more information call the SwampDogs offices at 426-5900. You can also check out the team website: www.goswampdogs.com.