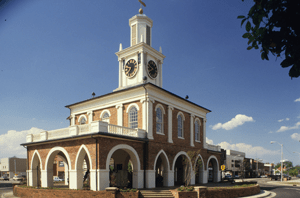 Times are changing in regards to local leadership, and as I see it, they are changing for the good. Look around and pay attention, folks.
The Fayetteville community is starting to come alive in many new and exciting ways. Leadership is starting to change as new faces and new ideas start to surface. This was evident last week at the Cumberland County Republican Party Convention held in downtown Fayetteville.
When all the ballots were in and counted, Susan Mills was handily elected for a two-year term as chairman over challenger John Czajkowski. Mills replaces the controversial conservative,Linda Devore who did not seek a
second term.
This event marked a major change in the leadership and direction of the local Republican party. Mills, no stranger to the Republican Party politics, brings enthusiasm, energy, experience and a steadfast desire to bring unity to the notably fractured party. This is reflected in Mills' new slate of officers and reinforces the notion that change is in the air.
With a young real estate agent, David Guy, as first vice-chair and lawyers Drew Dempster and Jordan Stewart as second vice-chair and secretary, it looks like Chairwoman Mills may have just become the Republican Matriarch of the young "legal eagles" and "30 somethings."
That is not such a bad thing.
Matter of fact, it just may have telegraphed a message to the leadership of the Cumberland County Democratic Party of what lies ahead for it at their county wide convention coming up in April. Finally, we are starting to encourage a healthy blend of experienced and talented leadership with enthusiastic, energetic young minds willing to step into local leadership roles.
This is also evident in Downtown Fayetteville where more and more new faces are starting to appear on the local scene; faces of those who want to be involved. Here, individuals like Tony Chavonne and Kirk deViere have taken the reigns to encourage downtown community involvement and provide the direction, vision and leadership needed to enhance the downtown community, encourage residency, spur investment and economic activity while defining Downtown Fayetteville as a "must see" destination.
It's happening right now.
Aggressive new leadership is also visible at the newest Downtown Fayetteville resident, the Fayetteville Regional Chamber of Commerce. Last week, the chamber's executive committee announced a new 2025 Task Force that will look at the chamber's future over the next 10 years. This charge will be led by chamber member Jack Rostetter. I consider this a very good thing.
Hopefully, at best, this task force will uncover the obvious. Basically, that the organization needs to get back to the basics of serving its members by being a respected voice, advocate and tour de force for local businesses and economic development. Notably, we have way too much government involvement in our local business sector as evidenced by the plethora of rules, regulations and ordinances that rather than enhance our business economy, stifle growth and profitability and discourage new business and entrepreneurship.
All of these regulations are imposed, managed and regulated by the same city and county agencies that now fund the chamber. Well, so much for advocacy. This being the case, it's time for the chamber leadership to take a stand, examine its core values and mission, and position itself as a true advocate for its members. Accomplish this, and local businesses will get involved, support and take ownership of the organization by providing, leadership, advocacy and strong economic prosperity. Guaranteed.
It's happening in other communities it can happen right here.
Thanks for reading Up & Coming Weekly.