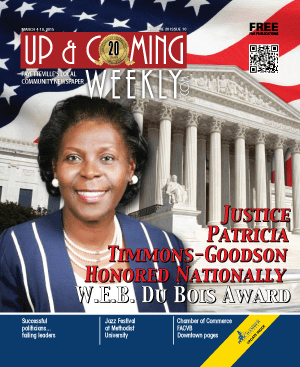 When the Association of Social and Behavioral Scientists gathers on March 19-21 for its 80th annual

conference, some serious topics are up for discussion. The ASBS works tirelessly to address issues that impact African-Americans. The event is also about celebrating triumphs and progress.
On Friday, March 20, the Honorable Justice Patricia Timmons-Goodson, a former AssociateJustice of the N.C. Supreme Court, will be honored at the W.E.B. Du Bois Award Luncheon which is open to the public. The W.E.B. Du Bois award is the highest and most distinguished award the ASBS presents each year.
The ASBS was founded in 1935 in Charlotte, N.C., at Johnson C. Smith University. The association meets annually and spends several days discussing topics that are relevant to African-American citizens throughout the country. The goal of the annual meeting is open dialogue and development of ways and means to influence positive changes and outcomes for communities and African Americans.
The attendees then return to their homes and use what they have learned to make a difference in their communities. While the topics vary from year to year, there is never a shortage of issues. This year, discussions include mental health of veterans, HIV AIDS prevention, educational challenges, which is important because of budget cuts at public schools and higher education levels. Some of the education sessions will deal with teacher retention and the high dropout rate of students across the country. Health issues like diabetes and cancer are on the agenda, as well.
Among the challenging topics scheduled throughout the weekend, the ASBS will reflect and celebrate the progress of Civil Rights. That is the focus of the W.E.B. Dubois Award Luncheon on Friday, March 20, where Timmons-Goodson is the keynote speaker and honoree.
W.E.B. Du Bois is known to many as one of the most important Civil Rights activists in the early 20th century. He was the first African-American to earn a Ph.D. from Harvard University and was the co-founder of the National Association for the Advancement of Colored People in 1909. In 1970, the ASBS established the W.E.B. DuBois award to "honor outstanding social and behavioral scientists and civic leaders who have made significant contributions to improve the lives of black Americans."
Dr. Doreen Hilton, president-elect and program chair for the conference noted that Timmons-Goodson was the perfect candidate for this award.
"Her lifelong commitment to civil rights equality and justice fits right in with the beliefs and cause of our organization. She was appointed to the N.C. Court of Appeals by North Carolina Governor Jim Hunt. Governor Mike Easley appointed her to the N.C. Supreme Court, and of course, last year President Barack Obama appointed her to the Commission on Civil Rights," said Hilton. "We looked at all of that combined with her work and her presence in the community."
Cumberland County Commissioner Jeanette Council has known Timmons-Goodson for more than 35 years and applauds the ASBS's choice for this year's award.
"Pat is an inspiration to all women — especially those who have not had a very easy road ahead of them. She exemplifies what hard work and doing an excellent job and receiving a good education can do for women everywhere," said Council, adding, "I have admired her for a long time."
Timmons-Goodson received her Juris Doctorate from the University of North Carolina Chapel Hill School of Law in 1979. She worked as an assistant district attorney and a staff attorney before she was elected to the 12th District Court in 1984. In 1997, Timmons-Goodson was appointed to the North Carolina Court of Appeals by then Gov. Hunt. On Feb. 1, 2006, Timmons-Goodson was appointed to the North Carolina Supreme Court where she served until 2012. In July of 2014, she received her appointment to the Commission on Civil Rights.
"As a member of the Civil Rights Commission, our mission and charge is to identify issues affecting the civil rights of our citizens and to try to influence and impact the conversation regarding federal civil rights," said Timmons-Goodson, adding that the topics are diverse and plenty.
"In April we will look at excessive use of force by law enforcement. The latter part of last year, we conducted a hearing on "Stand Your Ground" laws and whether they adversely affect African-American males," she said. "We conducted a hearing about immigration detention centers and the families held there."
In her keynote speech, Timmons-Goodson is hoping to remind those who are present of the tremendous contributions to Civil Rights made by Du Bois.
"It is on his shoulders and the shoulders of other Civil Rights mothers and fathers that I stand and that they stand," said Timmons-Goodson.
Timmons-Goodson said she is humbled to receive such a distinguished award and credits her success to many great people who influenced her throughout her life.
"There are, of course, the ones that would readily come to mind such as Charles Hamilton Houston, who was a mentor of the late Justice Thurgood Marshall and viewed by many to be the architect of many civil rights cases. There are many others — ordinary citizens on whom I stand and others stand. These are ordinary citizens who made extraordinary contributions in the sense that they offered themselves and their efforts at great risk to bring about change."
Tickets for the W.E.B. Du Bois Award Luncheon are $35. For tickets and information, call 551-6761 or email ASBSConference2015@gmail.com.