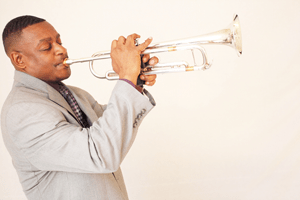 When Willie Bradley was 10, he begged his mom to buy him a trumpet. He even wrote her a letter promising her that if she would buy him a trumpet he would never stop playing it. He's 52 now and plays internationally with the James Brown Band. Bradley spent last April touring in France and spent the beginning of this year playing in Japan. He's getting ready to go to Europe on tour over the summer. On March 28, he's playing at Lowkey Productions' Spring Fling at the Holiday Inn on Cedar Creek Road.
Even though Bradley is thriving as a professional musician, he has always loved playing the trumpet, he took a circuitous route to get here. He was a Cumberland County school teacher for a while and a volunteer at Camp Sunshine and then worked at a music store for a time. He worked as a substance abuse counselor, too. He faced some personal demons, and fought long and hard to conquer them. It was worth it. Now it's his turn to give back.
"The reason for the Spring Fling is twofold," said Bradley. "When I was a school teacher, every summer I worked at Camp Sunshine, which is operated by the Autism Society of Cumberland County. I worked with the Lucero's. Their son was one of the students at the camp. I learned that their son, Ben Lucero, died and that there was a scholarship in his name that makes it possible for autistic kids to go to Camp Sunshine. A lot of people couldn't afford to pay for it and I wanted to do something to help."
So, a portion of the proceeds will go to the Ben Lucero Scholarship fund.
"The other reason for the Lowkey Spring Fling is that because I am so busy flying all over the world these days, I don't get to play much at home anymore," said Bradley. "The people in this town are generous and supportive like no others. They believed in me and supported me through so many things. I just want the chance to play in my home town and give back to the people who have stuck with me."
For Bradley, the trumpet is more than a job. It's part of who he is.
"My dad had records of all the great jazz musicians," said Bradley. "When I was a kid, we had to clean the house and iron our clothes before we could go outside. We weren't allowed to watch TV, but my dad would let us listen to his music. We would sing into broomsticks like they were microphones and dance and sing along with the those records. Jazz has always been a part of my life."
Once he decided to follow his dream and become a professional jazz player, Bradley knew he wanted to become more than a local musician. He wanted to reach for the stars.
"I wanted to send my message and my music worldwide," said Bradley. "A lot of it is about being at the right place at the right time and being prepared. But for a person to follow their dreams and find success, they need to find a god of their understanding, they need to find their passion and pursue it by any means necessary and they need to surround themselves with professional and positive people working in that industry. And, don't be afraid to take a chance," he concluded.
Spring Fling features International Smooth Jazz Recording Artist Willie Bradley and the Main Street Band with special guest Michael Macias. It starts at 8 p.m. Tickets are $15. For tickets and information, call 920.8505 or 476.1300. To make a donation to the Cumberland County Autism Society, visit www.autismcc.org/donate.php.