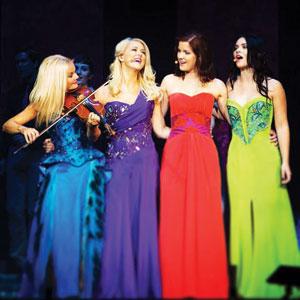 Celtic Woman is an entirely female musical group that specializes in both traditional Irish songs and modern works performed in a uniquely Celtic style. This year the tour, which stops at the Crown on April 8, promises to
be spectacular.
"This concert is the 10th Anniversary concert so it is a celebration of what Celtic Woman has achieved. It is sort of a 'pinching yourself' kind of moment after these 10 years," says Mairéad Carlin, the newest member of the group. "That first show was just supposed to be for one night and here we are 10 years later! I think that is because people have really connected with the songs, and there are certain songs that they associate with Celtic Woman."
Carlin is the first girl in the group from Northern Ireland. Surrounded by performing, she discovered her love for music at an early age with her first singing lesson at the age of four. And while she is the newest member of the group, she has been with Celtic Woman for two years. She is well-acquainted with the trials of touring.
"For all of us, it is a big commitment because Celtic Woman is away on tour for eight months out of the year. But we are grateful for this opportunity. Opportunities like this don't come around very often," she explained. "It is hard to be away from our families, but luckily, we are all so close. They are very mindful when they choose people to be part of Celtic Woman. They pick people they know will get on with each other."
Despite the challenges, she readily embraces the great experiences she has had.
"Opportunities like this don't come around very often. As performers, when you audition you pray to get a job like this and to have a sustainable job. This lets me perform songs that I grew up with and love on stage with incredible musicians," she says, "It is a 'pinch myself 'kind of moment. Sometimes I have to remind myself how lucky I am."
A Celtic Woman's music is a unique experience in itself. Carlin explains this by saying, "Storytelling is a big part of Ireland and Celtic Woman is really about storytelling; I think that is why people connect so much with the songs. They connect with the stories."
Seeing the performance in concert is an entirely different experience. It is so much more than incredible music. The show also features dancers as well as musicians performing on traditional Irish instruments.
"The concert is more of a grand experience. When you listen to a CD you just hear the music, which can be good because a lot of the treatments to the songs are very intimate … but the show is an experience with the beautiful costumes. They are very different. It just can't compare," she says.
The Celtic Woman 10th Anniversary Tour will be at the Crown Coliseum on April 8 at 7 p.m. The Crown Coliseum is located at 1960 Coliseum Dr. Ticket prices range from $60 to $80. They can be purchased at ticketmaster.com or by calling 910-438-4100. For more information, visit http://crowncomplexnc.com/events/celtic-woman/ or http://celticwoman.com.