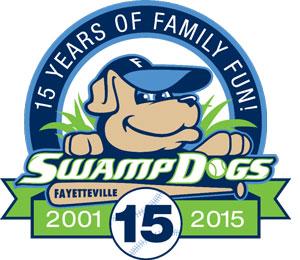 The Fayetteville SwampDogs kick off their 15th season on Tuesday, May 26, officially becoming the longest-tenured sports franchise in city history. One of the biggest reasons for their continued success is the SwampDogs' commitment to giving back to the local community. In addition to entertaining baseball games that include fun-filled events and give aways, the SwampDogs look for opportunities to make a difference in the community by hosting events and supporting various causes. This season there are several events that the team looks forward to sponsoring.
Once again, the SwampDogs will raise money for the Special Olympics of Cumberland County through the "Spare Change for Special Olympics" program. The 'Dogs will also sponsor a section of the Special Olympics torch run that passes through Fayetteville on June 2.
For the third season, the SwampDogs are running a Special Olympics Internship program where Special Olympics Athletes are hired to work for the summer to develop social interaction and job skills.
"The Special Olympics Internship has been successful beyond my wildest dreams," said SwampDogs general manager Jeremy Aagard. "The response we've gotten from the athletes and their parents has been tremendous."
The SwampDogs will team up with the Cape Fear Valley Health Foundation this season for two special events. The first is the third annual Balls and Strikes Bowling Classic to be held at B&B Lanes on June 29 to benefit the Friends of Children, Friends of the Heart Center and Friends of the Cancer Center.
The second will be the ninth annual StriKing Out Cancer Night, which is held on July 11. The SwampDogs will don pink jerseys and use pink bats throughout the game, with the jerseys being auctioned off at the conclusion of the game.
The Breakfast with the SwampDogs to benefit the Re-Store Warehouse makes its return this year on June 27 at "The Swamp" with all-you-can-eat pancakes and sausage for a great cause.
All new this year on July 29 is Bringing Memories Home Safe Night presented by the Fayetteville Walk to End Alzheimer's. The SwampDogs will be wearing special purple jerseys that night which will be auctioned off to benefit the Alzheimer's Association.
To find out more information about these great causes and how you can get involved, contact the SwampDogs by calling 910-426-5900.