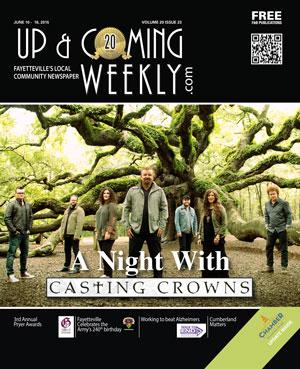 Wait no longer! Christian rock band Casting Crowns is finally making their way to Fayetteville June 20 with fellow artists Josh Wilson and About A Mile.
If you've ever listened to Christian Radio for more than a minute at a time, you've more than likely heard a Casting Crowns song. For more than a decade, Casting Crowns filled the airwaves with hit after hit, writing some of the most cherished songs heard in churches today. So, when the word was out that this timeless band was coming to the Crown Coliseum back in April, tickets sold quickly.
Then, fans received some terrible news. The Fayetteville stop on the tour, among many others, was canceled. But that wasn't the worst of it. Casting Crowns lead singer, Mark Hall, announced on social media that he had a cancerous mass on his kidney and would be having surgery to remove it in March.
His life was halted unexpectedly by this devastating news, leaving the band no choice but to reschedule the rest of the Evening With Casting Crowns tour, including pushing back Fayetteville's April date to June 20.
During the announcement, Mark made a humble request to their fans.
"Please pray for healing and for God's peace for my family," he asked online.
People began to pray. Thousands of fans joined in to pray for Mark, his family and the band, starting a #Pray-ingForMark movement, connecting with him online with the hashtag to show their love and support during his surgery and recovery. What began as a simple request spread rapidly across the nation through people who know Mark, or know him from a distance — even other Christian artists were asking for prayer from their fans on social media and at their own concerts. Artists like Mandisa, Michael W. Smith and the band Kutless showed their support for Mark on Twitter and Facebook, and included moments of prayer for Mark in their own shows. There is no denying it — this man was covered in prayer.
The days following the surgery, Mark's wife, Melanie, kept fans updated on the Casting Crowns blog and on their website, letting everyone know he had come out of the procedure with no complications. The tumor was confirmed as cancer, but was fully encased, and the cancer had not spread to the kidney or anywhere else in his body. Melanie expressed their many thanks a few days after the surgery.
"I wish that I could explain in words how much of a miracle it was, but it would take too many words. And to be honest, I am too tired.
But let me just say:
1. Casting Crowns is normally never off in March.
2. Mark was not experiencing any symptoms related to this tumor (he was having gastric problems).
3. Doctors do not routinely order CT scans with contrast for physicals.
God was at work in this before we had any idea.
He is good that way. We are thankful for His mercy and grace. We are thankful that He chose to answer our requests in this way. I know that not everyone's stories have the desired ending. But I also know that God desires us to trust Him with it all anyway. Even still, He says He will work it all together for our good."
At the end of April, just over a month after the tumor was removed, Casting Crowns was back on tour with the message of hope and healing in the darkest of situations. Did you catch that? That's only a mere five weeks after the surgery. Mark and the band, still heavily considering his health and recovery, say Mark may have to "do some songs sitting down" if need be.
Having the extra time for recovery has been difficult. Since their first label-supported album release in 2003, they have been going nonstop — sometimes working seven days a week — and if you can believe it, they consider this their side-job. Four members of Casting Crowns currently minister at Eagle's Landing First Baptist Church in McDonough, Ga. All of the band's touring and recording is maneuvered around their full-time work of mentoring teenagers at the church. They often schedule the tour dates between Thursdays and Saturdays to be home for church on Sundays and Wednesdays. Mark, who's the full-time youth pastor, says their songs are actually written from the topics they cover with their youth, coupled with bold honesty and catchy choruses. Though written for a specific topic, they find the songs not only speaking to their audiences, but to themselves as well.
Mark recalls, "In March, at our last show before the surgery, we were standing on the stage singing songs that I wrote and it's as though God was looking ahead when and knew when I needed to hear these things, songs like 'Already There', 'Praise You In This Storm', 'Who Am I' that I wrote years ago…It's like He was preparing me for this moment."
Its songs like these that not only won the hearts of their fans, but also some major awards. With two American Music Awards, two Billboard Music Awards, 15 Dove Awards and a Grammy, not to mention countless nominations, Casting Crowns has dominated the Christian music scene for many years.
The Crown Coliseum will honor those tickets that were bought before the tour was re-scheduled, so those that purchased tickets prior should plan to attend the upcoming show. These seasoned performers are guaranteed to put on a good show when they stop here in Fayetteville. Mark reassured us that though they had to reschedule, they will make it up to all that attend.
"We had to move a few concerts, which always stinks because people spend their money and their time planning things like that…Just know that if you guys show up, we'll make it worth your while."
For more information about Casting Crowns, visit https://www.castingcrowns.com. For tickets and information about the concert, visit, http://crowncomplexnc.com.