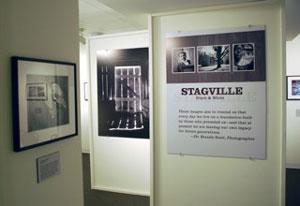 The current exhibit at the Cape Fear Historical Complex showcases 64 black and white photographs of the Stagville Planation in Durham, N.C. The exhibit runs through Sept. 13.
The Stagville plantation encompassed nearly 30,000 acres of land owned by the Bennehan and Cameron families, making it the largest plantation in the state of N.C. Paul Cameron, the wealthiest man at that time, owned approximately 900 slaves.
Photographer Brenda Scott began her study in 2011 to create lasting images of the historical meaning of Stagville. During her research she also met several descendants of Stagville. She took the opportunity to photograph descendants as well as still photos of the original owners of Stagville.
"One descendant is holding a mirror that captures both her in the foreground and a slave cabin in the background. This photographic study of the site in modern times makes the exhibit's content very unique", said Leisa Greathouse, curator of education.
Stagville the Living Legacy, one of Scott's three projects also includes interviews with descendants. The interviews are also on display and complement the photos. Each interview gives context to the time and place and gives perspective to the photos as they are viewed as a whole.
"The exhibit evokes different things to different people, which is what a museum exhibit is supposed to do. People are supposed to draw their own conclusions about Stagville's past and present," said Greathouse.
Today, the historic site consists of 165 acres where many of the original buildings still stand, which indicates the skill and craftsmanship of slaves who built them. Imagine the craftsmanship it demands to build a roof without one single nail — one that has weathered the test of time.
"There is a picture of a simple door, whose wooden planks are set vertically and the sun is shining through the cracks, between the planks. The radiating sun creates brilliance to the picture. It's a simple, yet beautiful photograph. How many of those hundreds of slaves saw that view 150 years ago as the Civil War ended? And even decades prior?" she asked.
The black and white exhibit is available for viewing
from Tuesday through Saturday 10 a.m. to 5 p.m. at the historical complex. Find out more at www2.ncdcr.gov/ncmcf.