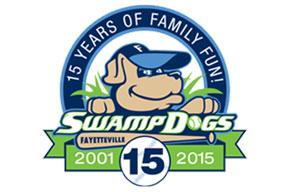 The Fayetteville SwampDogs' season is well underway, and as usual fans have been flocking to "The Swamp" for the best family fun and entertainment Fayetteville has to offer. This week is set to be another exciting week, as the SwampDogs host four games.
The fun kicks off on Wednesday, July 1, with Opening Night Part 2: The Salute to Sequels as the Dogs take on the Wilmington Sharks at 7:05 pm. Help the SwampDogs kick off the second part of their schedule by tipping their hats towards the great "Part Twos" in history. It's also Social Media night, so follow the SwampDogs on Twitter, Instagram and Facebook for special deals at the ballpark.
Friday, July 3 marks the return of the Honoring America Fireworks Tribute at "The Swamp" presented by Hendrick Chrysler Jeep Fiat, USAA and Disaster One. Everyone knows that the best fireworks in Fayetteville are at "The Swamp" on the third, so don't miss your chance to experience the extravaganza that everybody is sure to be talking about! This game is sold out every year, so make sure to reserve your tickets early so you don't get shut out.
The SwampDogs return home on Monday, July 6 for College Rivalry Night and Guaranteed Win Night! If the SwampDogs don't win against the Lexington County Blowfish, all fans in attendance receive a free general admission ticket to the next home game at "The Swamp."
That next home game is on Tuesday, July 7 on Superhero and Villain Night! Come to the game dressed as your favorite superhero or villain to see whether good or evil will triumph and win the day.
With these great games coming up this week, and the weekly promotions of Cornhole Mondays, Scavenger Hunt Tuesdays and Ladies Night Wednesdays, "The Swamp" is sure to be packed this week as the SwampDogs
chase a birth into the Petitt Cup Playoffs once again.
To reserve your tickets for these games — or any remaining SwampDogs game this season — contact the Fayetteville SwampDogs' business office at 910-426-5900 or stop by in person at J.P. Riddle Stadium, located at 2823 Legion Road
in Fayetteville.
With single game tickets starting at just $6, and a Family Four Pack — comprised of four general admission tickets, four hot dogs, four bags of chips and four small sodas — a $56 value costing only $35, the SwampDogs are an affordable night out that can't be beat.
For the most up-to-date information on the SwampDogs, including our upcoming schedule, player bios and more, slide down to the online home of the SwampDogs, www.goswampdogs.com. On social media, the SwampDogs can be found on Twitter and Instagram at the handle @GoSwampDogs, and on Facebook like the official team page, Fayetteville SwampDogs Baseball. These are all great sources to help keep you connected to your favorit boys of summer.
A SwampDogs game is where baseball is fun, and we want to see you out at
"The Swamp."