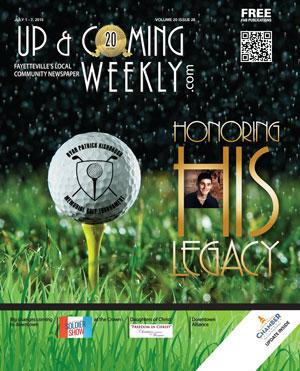 Ryan Patrick Kishbaugh was passionate about life. He was a well-rounded and accomplished athlete; a generous and giving volunteer in the community; and a remarkable scholar. When he was diagnosed with Hodgkin's Lymphoma during his senior year of high school, Ryan stayed optimistic and fought hard. He did his best to lead a normal life while battling to secure his future. On Jan. 3, 2003, Ryan died from complications of a bone marrow transplant. During his illness, he wrote a book called Run Because You Can – My Personal Race with Cancer. The book is an open and personal look at the struggles and triumphs Ryan experienced during his bought with cancer. Ryan touched and inspired many in his short time on this Earth, and his friends and family celebrate Ryan and everything he meant and still means to them whenever they can. On July 25, the 2015 Ryan Patrick Kishbaugh Memorial Golf Tournament offers a fun-filled day of golf and fellowship in memory of Ryan.
Dr. David Kishbaugh, Ryan's dad, puts on the event every year and he is confident that Ryan would approve. "He would try to downplay his role in it but he would approve and be happy that we try to engage family, friends and community in order to make a difference. The key is he did not want his battle to end with him and it is a key factor in why we try to make the golf tournament bigger and better every year. We want to touch more people, involve more people so that eventually the battle with cancer becomes routine and survival rates soar."
Kishbaugh is motivated by Ryan's words … the words he wrote the day of his diagnosis. "Today I found out that I had cancer … my battle with cancer is only beginning; I believe that it will be a long, hard-fought struggle, but I will overcome, I will survive. And this will be a story of hope for others, not only kids with cancer, but the world as well. I have a premonition that this story will not end in me, but will carry on, above and beyond myself and will bring hope. I refuse to let cancer get the best of me; I will not allow it. I have made the choice to not just be another victim of cancer, but to be more. I know I will be victorious. Even if it kills me, cancer will never break me. It will never win."
What started as an event for friends and family to get together and reminisce and share a day in Ryan's memory has grown into an annual fundraiser that benefits the Carpe Diem Foundation and through that the Leukemia and Lymphoma Society in honor of Ryan. The greens at Gates Four play host to this year's tournament.
The renovated 18-hole championship golf course includes both new bent-grass greens and renovated bunkers. The traditional style pine tree-lined fairways were designed in 1967 by acclaimed golf course architect Willard Byrd in 1967 and were redesigned in 2011 by by Kris Spence who is a leading golf course architect in design and restoration. The state-of-the art USGA-specified greens are a blend of A1/A4 bent grass. This combination provides an optimum putting surface 12 months a year.
The day starts with registration and some time on the practice range. Both open at 7 a.m. The tournament opens with a shotgun start at 8:30 a.m. The format is Captain's Choice. Each player will receive a swag bag, as well. There will be snacks provided during registration and beverages will be avaialbe throughout the event. The tournament concludes with lunch and an award ceremony. Individual golfers and teams are welcome.
"We have Hole-in-One, longest drive, closest to pin and putting contest this year," said Kishbaugh. "Sammio's is doing food. Moe's is providing chips and salsa for post-golf and beverages are from Healy and for the third year, Dirtbag Ales will set up a booth."
This year's tournament includes several side events that include a putting contest sponsored by Carolina Imaging, a Hole-in-One contest sponsored by Events 2 America and a raffle sponsored by the Carpe Diem Foundation. There is a nominal charge for each event.
The raffle is a 50-50 and winners do not have to be present to win. Tickets will be available before the tournament at the RPK Center. Cost is $5 each or 5 for $20. The pot is typically $700-800.
Golfers can participate in the putting contest for a small fee. They get one putt and the three best putts in the preliminary round get a chance to putt-off after the round is played. The winner of the putt-off then gets one chance to sink a 60-foot putt for $2,500.The top three get consolation prizes.
Events to America runs a $10,000 Hole-in-One Challenge. Golfers can participate in this contest for a small fee. Participants receive prizes for participating and they will split $10,000 with the charity (Carpe Diem) if they get a hole-in-one.
Corporate sponsors can compete for the tournament trophy and the company and player names will be added to the trophy. The trophy will then remain in the possession of the winning team until the 2016 tournament when it will again be up for grabs. Online registration includes a 1-year subscription to Golf Digest (a $10 value).
Kishbaugh looks forward to the tournament each year, as do many of the participants because so many of Ryan's friends come and participate.
"It is fun seeing friends and family reconnect.Some of the kids don't see each other except at the tournament and it is great to see them get together again," said Kishbaugh. "I am also humbled by how much community support we get from individuals and companies. Some have been helping since the beginning, others have heard about us and come out just to be part of things."
Nongolfers can make a difference by donating to the cause. Proceeds benefit the Carpe Diem Foundation. Since its inception, the foundation has raised more than $30,000. The majority of monies raised go to the Leukemia and Lymphoma Society (LLS). The mission of the Foundation is to:
• Help provide college scholarship assistance to student athletes with a chronic medical condition.
• Support other charitable organizations (such as LLS)
• Promote and help fund education and research for the treatment of chronic illnesses, especially those that affect young adults.
Find out more about the tournament, or register to play at http://2015rpkmemorial.com.