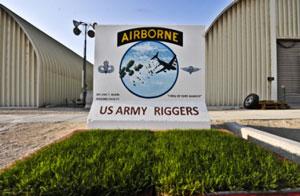 On Sunday, July 12, at 3 p.m., a unit monument will be dedicated for the 824th Quartermaster Company (Air Delivery), U.S. Army Reserve, at the Airborne and Special Operations Museum in downtown Fayetteville.
This monument will honor the military service of all past, present and future members of the 824th Quartermaster Company. Since 1945, the 824th has been a part of the national defense forces, including overseas service during World War II. Since 1963, the mission of the 824th has been parachute rigging and logistical air delivery of supplies/equipment to combat units.
The 824th is based at the U.S. Army Reserve Center at Fort Bragg. For 70 years, this unit has trained with active duty, USAR and National Guard forces throughout America and worldwide. In recent years, soldiers of the 824th have been deployed to Bosnia, Kosovo, Iraq, Afghanistan, Saudi Arabia and Jordan. As a Quartermaster unit with an airborne rigger mission, the 824th is somewhat unique in the Army Reserve. It is the only USAR unit of its type, based at Fort Bragg.
This monument will be the first one on the grounds of the Army's Airborne and Special Operations Museum, identified for an Army Reserve unit. This is also the first unit monument at the ASOM, to a specific Parachute Rigger unit.
The 824th Quartermaster Company (Air Delivery) has served America from World War II to the present day. Activated in England in 1945 as the 4552nd Quartermaster Service Company, it was inactivated in Germany in 1946.
The 824th was reactivated in North Carolina as an Army Reserve unit in 1947. It has served in various roles; Service and Supply, Graves Registration, Laundry and Bath and as a Military Police Company. In 1963, the unit became an Aerial Delivery Company (Parachute Rigger). The unit trained in Sanford, North Carolina, before relocating in 1968 to Fort Bragg. During the Cold War, the unit's mission was to provide parachute and air drop support. Most training was limited to quarterly jumps and a two-week annual training exercise, with Team Spirit in Korea from 1984 to 1986, as one of the unit's more notable exercises. The unit includes many career fields needed to accomplish air delivery missions.
After the Cold War ended in 1989, the 824th established a Direct Training Agreement with Special Operations Command Atlantic to provide air delivery and parachute support. The 824th participated in enhanced training missions throughout the Caribbean, Bermuda and Key West. Training opportunities continued to expand for the 824th in Canada, Germany, Greenland, Italy and with U.S. Special Forces in Puerto Rico and Antigua. A detachment of the 824th supported the 1990 D-Day Ceremonies in Normandy, France. During Operations Desert Shield and Desert Storm in 1990 and 1991, the 824th deployed a detachment of 50 personnel to provide parachute rigging and air-drop support to XVIII Airborne Corps in Saudi Arabia.
Following Desert Storm, the 824th continued to support active missions. Beginning with operations in the Balkans and Southwest Asia, the 824th provided detachments in support of air drop missions in Bosnia, Kosovo, Iraq, Afghanistan, Saudi Arabia and Jordan. Members of an 824th detachment deployed to Afghanistan during the Glob¬al War on Terror received the Meritorious Unit Citation.
The keynote speaker at this event is Maj. Gen.l Margaret Boor (USAR), Commanding General of the 99th Regional Support Command, USAR, based at Fort Dix, New Jersey. Maj. Gen. Boor is a resident of Fayetteville..
Find out more at http://www.asomf.org.