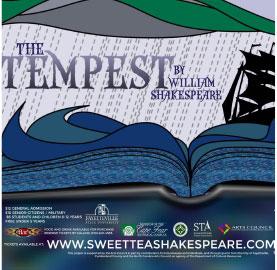 Sweet Tea Shakespeare has returned to its roots with the next performance of the season, The Tempest. This classic Shakespearean play is a combination of some of the master playwright's best works. Jeremy Fiebig, the director, describes the performance, "The Tempest is both very funny and very moving. It's got the best elements of A Midsummer Night's Dream, Twelfth Night, but also some of the darker plays as well. Like a lot of Shakespeare, there's music, dance and other fun bits throughout."
The play opens July 16.
The play follows the sorcerer Prospero, who is bitter over the loss of his royal title. Stranded on an island, he causes a storm that wrecks another ship on the island. In classic Shakespearean fashion with all sorts of hijinks, love and conflict ensues before a grand wedding and cathartic ending.
"For me, the play is about leaving where you came from and then trying to go back to that place. It's about creating a new home and finding your old one. I've been involved with a couple of other productions of this play, so revisiting the play now reminds me of those people and those times in my life. I think of them very fondly," Fiebig explained. "I'm fond of a lot of different Shakespeare plays, but The Tempest has always resonated on a deep level with me."
While the story may seem outlandish, full of magic and evil spirits, it manages, as all of Shakespeare's works do, to touch a universal and timeless truth of humanity.
"I think audiences will identify with the play. There's something for everyone — clown-like figures, spirits, villains, parents, children, music, dance, you name it — but it's the story about reconciliation and hatred and forgiveness that I think will really speak to audiences," Fiebig said.
Sweet Tea Shakespeare is an incredible mix of talent and classic southern hospitality. The performances are engaging and, despite the challenge of an outdoor setting, immersive.
"There's a massive shipwreck, magic, wild people, evildoers, spirits and music — and in our production, a lot of these things will immerse the audience in the world of the play," Fiebig said.
Framing the productions are opportunities for the community to grow. Sitting on the lawn of a beautiful 19th century Poe House, enjoying fantastic theatre and a tall glass of sweet tea in the cool summer night is a perfect evening by any standard.
"As is usual with our shows, audience members can come early for music, food, beer, wine and fellowship. We sport a really relaxed environment that's much more like going to a great party than it is like going to a play," Fiebig said.
The Tempest takes place on the grounds of the E.A. Poe House, which is located at 206 Bradford Ave. The show runs July 16 through 19 and July 23 through 26 at 7 p.m. Refreshments and live music begin at 6:15 p.m. Tickets must be purchased on-site and are $12. For more information or to reserve tickets call 910-420-4383 or visit
www.sweetteashakespeare.com.