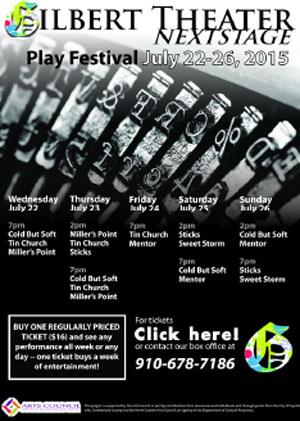 The Gilbert Theater is well-known for its up and coming presentations that not only showecase local actors from the community, but also works that are written by local playwrights. In its upcoming event, the Gilbert combines those two unique characteristics to bring the NextStage Playwright Festival to the stage Wednesday, July 22 through Sunday, July 26.
"It is a festival that consists of six short plays and they span comedy, tragedy and drama," said Robyne Parrish, artistic director of the Gilbert Theater. "Three of the playwrights are from North Carolina and the other three playwrights are from New York."
Parrish added that there are professional actors, directors and writers from New York who are coming in to work with community actors to join forces to do half new New York plays and half new North Carolina plays.
The purpose of the festival is to allow community artists to work with artists in the business outside of the community.
"It is an educational tool for me to mix them together and let them learn from each other," said Parrish. "It is a learning experience for the artists from New York because they are coming from the big city and it is a huge learning experience for the local people who can gain all of this experience from the working artist."
Part of the mission of the Gilbert Theater is to create and support new plays. The six plays are;
Cold but Soft by Brian Adam Kline, Miller's Point by Evan Dridenstine, Tin Church by Robyne Parrish, Sweet Storm by Scott Hudson, The Mentor by Webb Wilcoxen and Sticks by Grant Harris.
Cold but Soft is a dark comedy about a family who will go to any length to keep their dead grandmother around. Miller's Point is about love, lost and finding a new path in life. Most of the action takes place at Miller's Point which is a location for necking couples. Tin Church is about family, guilt and buried secrets. Sweet Storm is a love story that transcends all odds. It features a couple in which the woman is paralyzed. The Mentor is about an eccentric writer who will stop at nothing to become famous. Sticks is about a bunch of rowdy teenagers who get in some mischief.
"These are very edgy out-of-the-box contemporary plays. There is not a lot of opportunity to see shows like this in our area," said Parrish. "I would hope that everyone would come out and see something new and different and to see some really amazing artists at work."
Show times are July 22 at 7 p.m.; July 23 at 2 p.m. and 7 p.m.; July 24 at 7 p.m.; July 25 at 2 p.m. and 7 p.m. and July 26 at 2 p.m. and 7 p.m.
Buy one regular priced ticket and see any performance all week or any day. Tickets are $16 and can be purchased online at www.gilberttheater.com or call 678-7186 for more information.