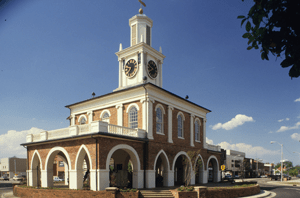 With all the controversy surrounding the Market House, I invite everyone who enjoys living in this community to visit the Market House in Historic Downtown Fayetteville and spend a few moments reading the names of residents, businesses and local organizations who have unselfishly invested time, effort and money over the last several decades contributing to Fayetteville's community development and quality of life.
The question now is: Who will these people, businesses and organizations be in the future? Who will be the people stepping into leadership positions providing innovative ideas that will assure future generations the same quality of life?
The recent passing of devoted Fayetteville resident Martha Duell brings this question to the forefront. We owe so much to people like Martha who contributed unselfishly to the development of our community. Her unbridled enthusiasm and commitment to our community left her indelible signature on the Cape Fear Botanical Garden, the Lafayette Society and with the help, support and devotion of her dear friend Mildred Evans, gave us the International Folk Festival. These are just a few examples of the many contributions made by people like Martha who devoted their lives to making our city and our community a better place to live.
No other place in Fayetteville reminds us of this kind of unsolicited community devotion than the brick floor of the Market House. Here, in the '80s and '90s, Fayetteville residents rallied to provide financing for the restoration and preservation of this national historic property. Yes, local residents and civic leaders raised money by purchasing engraved bricks for permanent placement in the floor of the Market House. They were the same people who stepped forward unselfishly into leadership positions contributing time, money and effort to building a better Fayetteville. The collection of names is impressive. It is a virtual 50-year Who's Who documenting the people and entities that stepped up to take leadership roles and became actively involved in shaping this community for the betterment of all Fayetteville residents. Not white residents. Not black residents. But, all residents. Again, it was Martha Duell and her devoted friend Mildred Evans who in 1979 created the International Folk Festival in recognition and celebration of Fayetteville's unique cultural diversity. It was a refreshing, authentic and welcoming gesture of love, acceptance and southern hospitality that has become a Fayetteville tradition.
Actually, when it comes to tolerance and diversity, Fayetteville could be recognized as the original "sanctuary city." And, the names of many of the people, businesses and organizations responsible for this lie engraved in the Market House for evermore. Dedicated, unselfish and relentless people all in the pursuit of a better Fayetteville community. People like Lloyd Hackley, J.L. Dawkins, Johnny Dawkins, M.J. Weeks, Jean Hodges, Ginny and Dean Russell, Ramon and Virginia Yarborough, Tony and JoAnn Chavonne, J.P. Riddle, Don Talbot, Bill Hurley, Breeden and Kathy Blackwell, Alex Warner, Lee Warren, Jon Warren, Charley and Peggy Holt, Robin Kelly, Mark Kendrick, Richard Bryant, Bobby Suggs, Don Lattilla, Linda Lee Allen, Jean and Jeff Thompson and Walter Guy Jr. Businesses like Kelly Springfield, Townsend Real Estate, McCune Technology, Dickinson Buick, Hutson Typewriter, Hurst Annaho.
Again, these are only a few. Many have left us over the years but not before leaving their mark and loving contributions on our community. Fortunately, many are still here working, active and dedicated. But their numbers are thinning. The question now is who will take their place? Who out there is willing to put their iPhone and iPad down long enough to build this community up? We can only hope this "what's in it for me society" realizes what's in it for them before it's too late. Thank you for reading Up & Coming Weekly.