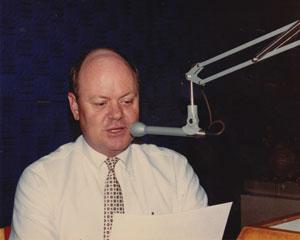 Jeff Thompson first came to Fayetteville as a soldier in 1962. He eventually left the Army, and like many soldiers before him, Thompson stayed and made a life for himself here.
"I fell in love and married a local girl in 1963," said Thompson. The couple raised three children.
From the very beginning, Thompson enjoyed observing the community. He is fascinated with the relationship that the community has with Fort Bragg and understandably so. Upon leaving the Army, Thompson worked at WFNC.
"I spent most of my career there, although I did go to Charlotte for a short time in the '70s," he said. "I left the radio station in 2001 because it was sold to Cumulus, the current owner. I spent most of my time at WFNC working with Wendy Riddle and I worked with Jim Cook for a time, too."
Margaret Dickson remembers Thompson from her days working at her family's radio business when she was a teenager. As the news director, Thompson was her boss and Dickson still fondly refers to him as such.
"The thing that stands out to me, and we have been friends now for decades, is that he is totally honest about everything. You may not like what he tells you, but he is telling you what he honestly understands about the situation and what he believes to be the truth," said Dickson.
It's a trait that can be hard to come by, and one that Dickson greatly admires.
"He is also very courageous. He doesn't mind taking a stand on something that is not popular. He stands by what he believes," she said.
Thompson's fascination with Fayetteville never waned and his commentary on different topics appeared in The Fayetteville Observer and went out over the airwaves at WIDU where he's worked since 2009. Now Thompson is the news director at WIDU and his writing is set to appear in Up & Coming Weekly on a biweekly basis.
At 73-years-old, Thompson has witnessed plenty of changes in the community. He credits the revitalization of Downtown Fayetteville as one of the best things to happen to the area.
"It started when they decided to take down the 500 block of Hay Street and do away with so many of the establishments that brought about the Fayettenam moniker that we are still fighting to overcome," he said. "It was the Airborne & Special Operations Museum that really turned things around though. That is an anchor for the area that just adds so much to the downtown experience and has such a strong connection to Fort Bragg, which is a big part of Fayetteville's identity."
In his more than 50 years in Fayetteville, not much has escaped his eye, which, over time, has given him insight to many of the issues facing the community today.
"Jeff is as experience a news person as you will find in Fayetteville. I cant think of anyone else who has been at it as long as he has," said Dickson. "He knows our history and the people who made that history. He has relationships with people going back many, many years. I think in our mobile age it is really a blessing that our community has a person who has observed our community for so long and understands our community and understand its history. It is wonderful that our communitty has the resource that is Jeff Thompson."
An advocate for making Fayetteville a better place, Thompson believes it is important that Fayetteville understands her place in the state and in the nation and that the city leaders work to capitalize on them. Thompson sees the city's connection to Fort Bragg as a boon. Until the first Persian Gulf War in 1991, according to Thompson, the town didn't really appreciate the impact that Fort Bragg has on the economy.
"When 37,000 paratroopers left town to go fight, we felt it," he said. "Like much of the country, that changed our understanding of the value of the military and the way we see them. Before that there was still a lot of negative sentiment toward soldiers about Vietnam."
Thompson has strong feelings about most everything that impacts Fayetteville. From the talks about building a $60 million Civil War Museum to the destiny of the Prince Charles Hotel to Fayetteville's industrial development (or lack thereof) to ideas about marketing Fayetteville's position as a halfway point between New York and Miami on I-95 and more. Get Thompson's take on the things that matter starting Aug. 12 in Up & Coming Weekly.