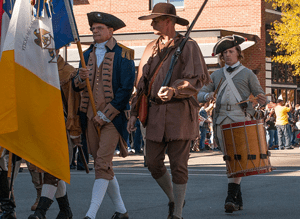 Veterans Day has always had a very special place on the Fayetteville calendar. Fayetteville is intertwined with Fort Bragg and so the military plays a huge role in the community. To honor and thank these valiant community members, friends and family, as well as all vetertans, there is the annual Veteran's Day Parade. This year it is on Nov. 7 from 10 a.m. until 12 p.m. along Hay Street, kicking off with a C-130 flyover. It is an exciting and lively parade, but more importantly the Chair Kirk deViere noted, "This is an opportunity to honor those who made sacrifices and served our nation over the years."
This year the parade will be bigger and better than ever, deViere said. "We will have over 100 participants and we are very excited. It is one of the larger parades. We have a lot of military service organizations like the VFW and high school ROTC units from all over Cumberland County. I believe it is the first time Fayetteville State University has participated in the parade. We will have choruses. The 18th Airborne chorus will be there. We will have vehicles and marching units. The 82nd Airborne band will be there so will USASOC. Of course 440th as near and dear to us as they are, will be participating. Methodist University will have their band and we will also have several high school bands." Truly, the whole community is coming together to create a fantastic parade this year.
DeViere has worked with the Veteran's Day Parade for three years now, officially taking over this year. Organizing so many moving parts is challenging, but with experience and passion deViere continues to help the program grow each year. "It is our 16th year of doing and it gets bigger every year. The support this community has for military is great. There is always a great opportunity to come support the military," he said.
Each year the parade has a theme. Previously it focused on specific conflicts, but this year the organizers had a different idea. "The theme this year is women in the military. We are focusing on honoring women who have served the military, which we are really excited about it," deViere said, "We have a lot of women's auxiliary groups and vets who are participating in the parade. Our Grand Marshall is Maj. Gen. Marcia Anderson. She is the first African American female to get to major general in the Army Reserves. Command Sgt. Maj. Yolanda Tate, the Fort Bragg Garrison Command Sgt. Maj. will host the parade with her."
Another exciting addition to this year's Veterans Day Parade is Air Force participation and official recognition. Every year thousands of people come to see the parade and hundreds participate. This is a huge undertaking, and this year the parade is officially recognized by the Veterans Administration, leading to even further growth. "There are Air Force veterans groups participating this year, which we are very happy to see. There will be a C-130 flyover to start. They only do about six across the nation on Veterans Day and we are one of them. We have been designated as an official VA regional site, which means our parade is the official VA admin regional site. They only do that for a few parades across nation. It is a designation that your parade is important," deViere explained.