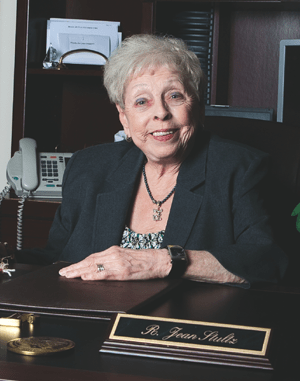 Jean Stultz has been a pillar in the Fayetteville community for years. As the president and chief executive officer of Bragg Mutual Credit Union she gave a personal caring touch to an increasingly impersonal business. For her, the work at the credit union was much more than spreadsheets and account numbers, it was about helping real people make the best decisions for their future. She has done this work for over 40 years with a welcoming smile on her face. After so many years of tireless service, Stultz has decided to retire and enjoy some time with her family. "I am going to do a little traveling and probably spend some more time in Charlotte with my daughter and granddaughter there," she said.
Stultz started working at Bragg Mutual Credit Union when it had only three employees. When the manager retired, she jumped at the opportunity becoming the President/CEO in 1980. Under her leadership, the credit union has grown tremendously — despite the added challenge of breaking into a male-dominated industry. In an age where women business leaders were hard to find, Stultz stood up to a system designed for good ole boys and climbed the corporate ladder, beating many of them to the top. Stultz attributes her success to her work ethic. "When it comes to being successful, you do a good job — and you become noticed when you are doing a good job. If you are honest with yourself and honest with people you are working with, it helps you get ahead, too," she said.
While breaking through the glass ceiling Stultz also kept her priorities in line having a tremendous positive influence through community service. With a heart for the community, and love for people, it was just natural for her to reach out to the causes she holds dear. And she brought her passion for helping people and making change to every corner of the community. Her magnanimous personality and incredible drive make Stultz a boon to any organization. She's served on countless boards, organized events and supported many causes over the years. Some of the organizations she is most passionate about are the Professional Women of Fayetteville, the Cumberland County Business Network, which she helped found and the Association of the United States Army. Despite her decision to retire, she has no intention of slowing down. "I intend to stay on some of the boards I am serving on because I enjoy that and I look forward to continuing my activity in the community as much as possible," she explained.
Perhaps one of the most important lessons to take away from Stultz's fantastic career and admirable contributions to the community is the importance of passion in every day life. Looking at her list of accomplishments, it seems impossible that a single person could do so much for the community, but when fueled by passion it all hardly seems like work, "You must love what you are doing. You are being unfair to yourself if you aren't doing what you love, said Stultz. I love the Credit Union and I love people. I had the opportunity to meet all kinds of people from all walks of life and I loved that. And I got to help people and I loved that, too."
Jean Stultz plays such an important role in the community. Through her tireless work both at the credit union and in her various positions in community organizations she has positively touched the lives of many. It is exciting to see her transition into her next adventure and to speculate about the next great impact she will make. She shows no signs of slowing down, "I have enjoyed every phase of my career from working at the Credit Union to working with the community and I am looking forward to retirement but don't intend to stop doing things in community," Stultz said. And while no one would blame her after everything she has given, why would we want her to? Stultz is the epitome of the very best in
this community.