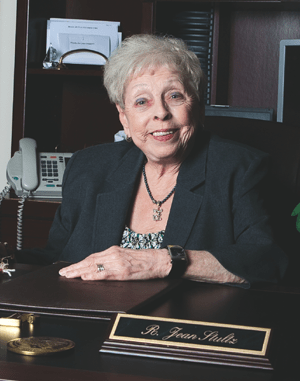 Jean Stultz is a force of nature. Those who know her know her quick wit, her rich laugh, her business savvy and her incredible love of her family, friends and the Fayetteville community.
Last Saturday, hundreds of friends and family members from all over the country gathered at Highland Country Club to celebrate and honor Ms. Jean on her 46 years of dedicated service to Bragg Mutual Federal Credit Union.
Yes! 46 years! Friends, family, state and local government officials and credit union industry leaders attended the celebration and each spoke of the many contributions Ms. Jean has made to the credit union industry. They credited Stultz's leadership for many ideas and innovations that directly resulted in the popularity and growth of credit unions across the nation. It was quite an impressive affair.
Stultz left her mark not only on the credit union industry but on all facets of life in the Fayetteville/ Cumberland County community. Few people have ever or will ever reach this pinnacle of success and fulfillment in their lifetimes. Her lifetime of awards, achievements, honors and proclamations pale in comparison to her energy and tireless contributions to humanity that will surely serve as her legacy.
Retirement is in her future. However, at 83 years young and with a 46-year career in her rear view mirror, she shows no signs of slowing down. Yes, we are a better community because of Jean Stultz. In an age that measures careers in years rather than decades, she will continue to inspire us to achieve greatness through honesty, compassion, hard work and tenacity. No doubt the petite Ms. Jean casts a long shadow, and in doing so, gives us a not so subtle reminder that we should do it "our way."
Thanks for reading Up & Coming Weekly.