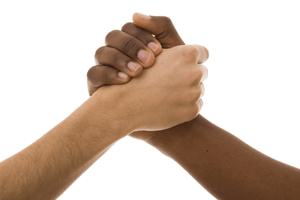 Well, no doubt, I was not the only one that was sad and disappointed at the Fayetteville Observer's Thursday, Nov. 5, article written by Andrew Barksdale (Some See Divide in City Vote Totals). Here, he interpreted Mayor Nat Robertson's 673 vote victory over challenger Val Applewhite as proof positive that our community is divided along racial and economic lines.
Barksdale shamelessly expounded on our communities "apparent" divide between well-to-do aristocratic white Fayetteville citizens living in exclusive high-class neighborhoods to poor and lower-middle-class black Fayetteville residents living in segregated parts of our community including the newly annexed West Fayetteville area. How absurd.
He also made sure that everyone understood that Robertson is a white male registered as a Republican who lives in the Terry Sanford High School area while accentuating that Applewhite is a black female registered as a Democrat and lives in the city's middle-class western suburbs. As he reported, Applewhite's campaign was based on the platform of inequality as she touted that there was a major disparity of income and wealth among Fayetteville residents, and that was unacceptable.
In reality, she lost the mayor's race because her base of likely voters did not buy into her radical and racially-charged conclusions. Barksdale's attempt to paint that as a foregone reality is the type of racial divide this community does not need or want. And, the Fayetteville Observer's Executive Editor Michael Adam's sloppy left-handed mea culpa only added insult to injury.
Barksdale is a talented reporter; however, he is not the boss. He has at least two newspaper editors above him that must approve and sign off on his stories. Hence, once printed, the story no doubt also representing the position and opinion of the newspaper.
Well, here's a newsflash: Val Applewhite's inequality platform, even when supported and reinforced by the Fayetteville Observer, doesn't make it truth or a Fayetteville reality. Far from it. What it does indicate is that they all are out of touch with the residents of the community.
Fayetteville Observer Editor Michael Adams, in response to reader backlash, tried to soften the article's intention and purpose. He tried to walk it back in Sunday's newspaper and justify the purpose for it. His article, "Story Didn't Show Reporter's Insights" came across only as a weak, left-handed mea culpa. "We are sorry, but....." !
This begs the question: Do our daily newspaper editors (Adams and Tim White) even live in Cumberland County?
In closing, I do live in Fayetteville and I stay in touch with its residents. I can tell you unequivocally that I sense no racial divisiveness, hostility or bias among the residents that I come in contact with in all my daily social and business events. I only experience and witness divisive negative and destructive behaviors in our daily newspaper and liberal talk shows and when inept individuals find it politically convenient and self-serving.
Reality check: Fayetteville is now at a critical crossroads with a new Chamber president, reorganized City County Economic Development Board, Downtown Fayetteville Development, PWC issues and the all-important parks and recreation referendum. There is absolutely no room or time for divisiveness. This is crunch time!
Now, more than ever, our community needs vision, perseverance, cooperation and most importantly, leadership. On Nov. 3, whatever the circumstances, the voters have made it clear on what they want and expect from their elected officials. Now, let's get it done.
Thank you for reading Up & Coming Weekly.