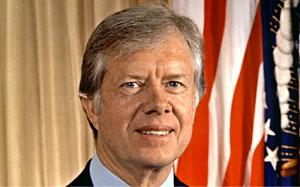 I was a little girl when Jimmy Carter was president. While I would never classify him as one of my top 30 presidents, I do remember quite a few things about him.
I remember how his Southerness became fodder for late night TV hosts and other sophisticates who found his honesty and lack of sophistication humorous.
I remember his family. His beloved mother, Lillian, reminded me a lot of my own grandmother. His wife Rosalynn reminded me a lot of my aunts. Her quiet dignity was often taken for granted, but she never gave the nation cause to be embarrassed.
I remember Amy. Oh, how I did not like Amy. And it all stems from her galloping through the family's walk following the inauguration. She hopped and jumped about. As we were the same age, I found it embarrassing. This was a moment in history and her actions did not reflect that. Looking back now, that was rather unfair. She was a little girl who was pushed into the national spotlight – and whose whole life became a target. I'm sorry Amy.
I remember Carter's infamous quote about lusting in his heart and his total inability to crack the D.C. code – none of which impressed me much. Perhaps the best memory I have of his presidency is of a press conference he held as he was going out of office. It was around this time – Christmastime. He was talking about the hostages in Iran, and in that moment, even I, as a little girl, could see that he was a broken man. While talking about the hostages he turned to his faith, and to a Christmas carol, to explain how he felt.
It was in that moment that I found him to be the most presidential. And it was that moment that I remember more than anything else about him. In the spirit of Christmas, and because it is as fitting today as it was then, I would like to share that carol. But first a little bit about it.
It was written in 1863 as the Civil War raged in our country. It was written by a father whose son had been injured during war. I'm talking about "I Heard the Bells on Christmas Day," which was written by Henry Wadsworth Longfellow.
I heard the bells on Christmas Day
Their old, familiar carols play,
and wild and sweet
The words repeat
Of peace on earth, good-will to men!
And thought how, as the day had come,
The belfries of all Christendom
Had rolled along
The unbroken song
Of peace on earth, good-will to men!
Till ringing, singing on its way,
The world revolved from night to day,
A voice, a chime,
A chant sublime
Of peace on earth, good-will to men!
Then from each black, accursed mouth
The cannon thundered in the South,
And with the sound
The carols drowned
Of peace on earth, good-will to men!
It was as if an earthquake rent
The hearthstones of a continent,
And made forlorn
The households born
Of peace on earth, good-will to men!
And in despair I bowed my head;
"There is no peace on earth," I said;
"For hate is strong,
And mocks the song
Of peace on earth, good-will to men!"
Then pealed the bells more loud and deep:
"God is not dead, nor doth He sleep;
The Wrong shall fail,
The Right prevail,
With peace on earth, good-will to men."
May the spirit of this season of love fill your hearts with joy.