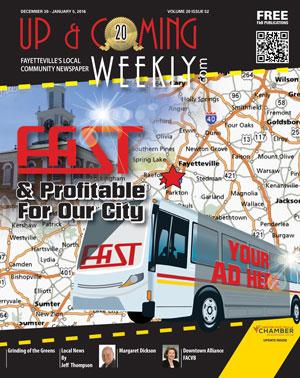 "What form of advertising can be experienced throughout the day, every day of the week, not surrounded by editorial, programming or photographs, and can be targeted to reach specific audiences by geographic location? If you guessed outdoor, you're right. Outdoor advertising is smart." That's the way the Fayetteville Area System of Transit's advertising agency, Street Level Media, describes bus advertising.
In the fall of this year, the Fayetteville City Council culminated a three-year effort by its Citizen Advisory Committee on Transit to authorize advertising on city buses for the first time in many years. As expected, there was some resistance to the idea. The city received a new fleet of buses and some worried ads were problematic. But the appeal of a new revenue stream of non-tax funds won the day, allowing private businesses to support FAST's public budget.
By the time the city attorney's office vetted content issues, the council decided to ban certain kinds of ads on FAST coaches and shuttle buses: No political or issue-oriented content, no alcoholic beverages or illegal products and nothing of a sexually suggestive nature are viable options. There are some other restrictions. FAST Assistant Director Kelly Blazey coordinates the approval process with the agency.
Street Level Media won a five-year contract to serve as transit's ad agency by guaranteeing that FAST would receive a minimum, fixed percentage of monthly advertising receipts. For the City of Fayetteville, it's the first significant public-private cash-generating agreement with local business to provide a dependable stream of non-tax revenue. It's estimated to exceed $50,000 in the first year, with upwards of $100,000 within reach once the project is fully ramped up.
Since the first ads appeared on coaches in September, the city has taken in more than $10,000.
"It's better than I had expected," said FAST Director Randy Hume. "I'm very pleased."
Street Level Media co-owner Weyher Dawson is also pleasantly surprised.
"Advertisers have jumped all over this and have far exceeded our expectations," he said.
City officials always have economics on their collective mind, and they can take heart that transit advertising is already a big boost for the business community.
"Fortunately the businesses are getting really positive feedback,"
said Dawson.
So far, nearly 20 local merchants and professionals are among the first to sign up, although Dawson said an out-of-town law firm is ready to contract a full bus wrap for a year.
The Fayetteville Area System of Transit operates 27 coaches on 19 fixed bus routes and 16 FastTrac vans for medically disabled patrons. Ridership in the 2014-15 budget year reached 1,637,684, according to Hume.
Dawson notes the firm has sold out streetside and rear bus ads. Emphasis, he says, will turn now to curbside ads and paratransit vans. Street Level Media also represents transit systems in Winston-Salem and Wilmington.