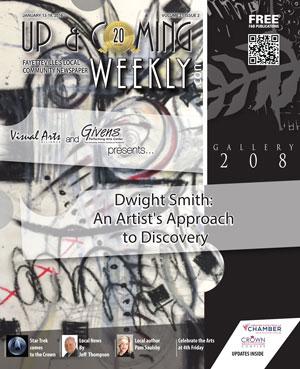 For those who visit local galleries regularly, more than likely they have seen Dwight Smith's abstract paintings. Smith lives in Fayetteville and is an assistant professor of art at Fayetteville State University. His paintings are highly textured, thick and "oozy-sensuous." Often the mark making in the paintings seem to reference a drawing process — reason and intuition is mediated throughout the finished work.
After years of wanting to explore printmaking, Smith recently made the time to become a student of the genre. After seeing the early results, Gallery 208 is excited to host an exhibit of the relationship between Smith's paintings, drawings and prints in Dwight Smith: an Artist's Approach to Discovery. The artist's reception is Jan. 19, from 5:30-7 p.m., and includes several of his paintings while the remainders of the works in the exhibit are drawings and prints.
Visitors to Dwight Smith: an Artist's Approach to Discovery will clearly see how an artist transitions between mediums while retaining the thematic essence of who they are. Each process contributes to personal meaning or content — his oeuvre is embedded in the material he is using at that moment.
The following statement by Smith is the key to understanding how he moves so easily between the different media: "My research and investigations into contemporary painting involve mixed-media painting and drawings that are influenced by material surfaces and scale."
For Smith, the act of drawing translates into a direct experience and an immediate source of discovery — a process least impeded by technical considerations of a finished painting; he is unencumbered by the "finished" process in a painting. Instead, drawing is the immediate formulation of ideas and is the result of hand, drawing material and the surface of the paper.
In his approach to painting, Smith explained, "As an artist, my current painting practice involves methods of integrating opposites into a state of harmony and balance. Elements of design referenced in African, African-American or multi-cultural imagery create a catalyst to begin my visual language that informs the work. Through the work I am responding to the tension generated by a resounding past and an insistent present. Each work is a commitment to intimate concerns about painting and the contemporary language of abstraction."
Printmaking was simply an extension of Smith's approach to drawing and painting. The use of materials became possibilities, not an objective search, but about discovery, experimentation and selection. In that printmaking is a studio environment for artists to explore imagery and creative problem solving, Smith thrived due to his approach to drawing and painting — thinking in layers, colors, the graphic use of black, texture and incorporating his personal symbols.
No matter what the medium, all Smith's work reflects what is important to him: "…I create celebrate life, family histories and tributes to artists. I express certain social realities concerning the world while exploring aesthetic qualities of being black in America and addressing the literal symbology of contemporary blackness within the legacy of Abstract Expressionism, thereby creating a pliable structure for intuition, improvisation and chance."
No matter which media Smith is using, it is easy to sum up his approach as an artist by citing a statement by Sarah Thornton in her book Seven Days in the Art World: "You are materializing — taking something from the inside and putting out into the world so you can be relieved of it."
After retiring to Fayetteville from a career as a graphic designer in the automobile industry in Detroit, Michigan, Smith has enriched the area with his talent, skills as a teacher and as an art advocate in the community. After being only retired for one year, he was hired to teaching painting at Fayetteville State University. While teaching with Fayetteville State he completed a required advanced terminal degree for studio artists, a master's of fine arts from the Art Institute of Boston at Lesley University in Cambridge, Massachusetts. Smith is also the director of the Rosenthal Gallery on Fayetteville States'campus.
Some of Smith's most recent group invitations to exhibit include NAAHBCU National Exhibition: AfroFurturism, at the Tubman African-American Museum, Macon, Georgia; FORECAST: OVERFLOW at the Brown & Juanita Ford Art Gallery, Wayne County Community College in Detroit Michigan; Earthy Abstraction: Works by Jack Kehoe, Kipley Meyer, Brian Rust and Dwight Smith at the Madison Artists Guild in Madison, Georgia; and Contemporary Works on Paper at the Brandywine Center for the Visual Arts in Philadelphia, Pennsylvania.
Selected solo exhibitions include OBSERVATIONS: Mixed Media Works from Dwight Smith at the Ellington-White Contemporary Art Gallery in Fayetteville, North Carolina; New Works by Dwight Smith at the National Conference of Artists Michigan Chapter Gallery in Detroit, Michigan; Peintures, Le Manufacture in Aurillac, France; and National Conference of Artists International Exhibition at the The National Gallery in Dakar, Senegal.
Selected recent presentations by the artist include "Black Art: Abstraction, Social Change and Cultural Identity in My Postwar America" in Rosenthal Gallery on the campus of Fayetteville State University and the Institute of Boston at Lesley University in Cambridge, Massachusetts; "Examining Interrelationships of Black Art on Social Change and Cultural Identity" at Fayetteville State University; and "The Evolution of the Black Image in Illustration and Fine Art" for the Friends of African and African American Art at the Arts Council of Fayetteville/Cumberland County in North Carolina.
Smith's commitment to the idea of discovery is not limited to the studio, but reaches into the community with his art advocacy. His community service includes leadership in the Fayetteville Art Guild, participating in the Ellington-White Community Foundation on Gillespie Street and instructing in Discovering the Arts (an after school and summer program for young students).
Gallery 208, at Up & Coming Weekly, is pleased to share Dwight Smith: an Artist's Approach to Discovery with the community. The opening and artists' reception on Jan. 19 is free and the exhibit will remain up until March 5. Gallery 208 is located at 208 Rowan Street and the hours are Monday – Friday, 9 a.m. – 5 p.m. For information on the opening or the exhibit, please call Up & Coming Weekly at 910.484.6200.