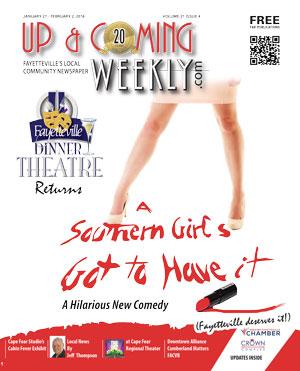 Longtime Fayetteville residents will remember a time when dinner theatre was a regular part of the city's social scene. But that hasn't been the case for more than 30 years.
Back in the day, theatre patrons could routinely make their way to the Holiday Inn Bordeaux to catch a relaxing and entertaining evening of theatre coupled with a great dinner. As the old saying goes, all good things must end, and that was the case of dinner theatre in Fayetteville. But as the community begins talking about improving its quality of life, local businessman Bill Bowman, decided it was time to bring dinner theatre back to life in Fayetteville.
"People always talk about the lack of things to do in Fayetteville, and then they head up to Raleigh or Durham or Chapel Hill to experience things that could very easily be experienced here locally," said Bowman. "Why can't we have the 'good stuff?"
With that thought in mind, Bowman reached out to the community, and what he found was many local partners who were excited about the idea of brining dinner theatre back to Fayetteville and welcomed the opportunity to be a part of it.
Bowman noted, that the enthusiasm with which the dinner theatre idea was greeted made him even more excited about making it a reality, Because he is about community, Bowman thought the best way to bring dinner theatre back was to bring it back by showcasing the work of a local playwright. So he turned to long-time friend Elaine Alexander - now a resident of Charlotte - but a hometown girl at heart. Alexander, a Westover graduate, with family ties that go back several hundred years, has gained success as a playwright in the Charlotte area, and was only too happy to bring one of her shows, A Southern Girl's Got to Have It, back home.
For Bowman, the next step was finding a venue. For that, he had to look no further than a long-time friend with roots in the hotel industry: Romona Moore. Moore is the marketing director at the Holiday Inn I-95.
"They have a great venue out there and were one of our first partners," said Bowman. "The hotel is very excited and is putting together an elegant evening an wonderful meal to complement a great show."
Because dinner theatre is such an intimate event, Bowman thought there was no better weekend to offer the show than Valentine's Day Weekend.
"On Valentine's Day, we are all looking for something unique an elegant to do with our Valentine," he said. "Dinner theatre, complete with an overnight stay, makes a perfect gift for your special person."
To that end, the Holiday Inn is offering special dinner theatre packages. The Hotel Sweetheart package includes two theatre tickets, a deluxe room, two complimentary breafkasts and a half dozen roses with each pair of tickets.
To make the evening even more unique, Bowman enlisted neighboring Lu Mil Vineyard to join the team. The family-owned vineyard located in Bladen County, will bring a sampling of its wines to the event for a wine tasting.
"There are a lot of things we are doing to ensure that this is a special night for those who attend," said Bowman.
For those who do not have a sweetheart to celebrate Valentine's with, the theatre is sponsoring a Ladies' Night Out on Friday, Feb. 12. Ladies' Night Out includes a ticket, wine tasting and dinner, music and attendance to a champagne reception for the actors after the show.
On Friday Feb. 12 and Saturday, Feb. 13, the doors will open at 6 p.m., followed by a wine tasting, dinner and the show. On Sunday, Feb. 14, the show is at noon, which includes a wine tasting and buffet lunch.
"We are really pulling out all of the stops to make sure that Fayetteville residents have the opportunity to enjoy a great night of dinner and theatre without having to drive an hour away to do so," he said "With the upcoming bond referendum, there is a lot of talk about what Fayetteville residents deserve. And I wholeheartedly agree that Fayetteville residents deserve to enjoy great quality of life venues and events. If we can make this event successful, we will look at other ways and venues that we can create to add to the quality of life for our residents."
If the dinner theatre is successful, Bowman hopes to bring a Georgetown-based playwright down to present the next dinner theatre.
Tickets are $75 and are available at the Holiday Inn, Up &Coming Weekly, the Crown Coliseum, Owen's Florist and online at CapeFearTix.com. Discounts are available for seniors, active duty military and Cumberland County School Educators.
For more information, call 391-3859.