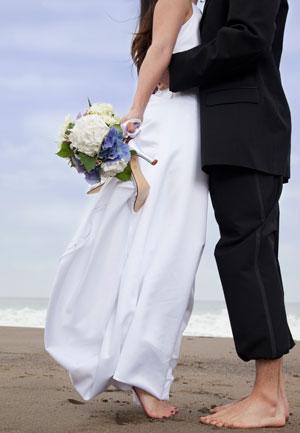 Wedding season is just around the corner, and a friend recently received a wedding invitation from a young out-of-town cousin. My friend was unable to attend the festivities, but she wanted to remember the couple with a present, so she called to ask in which stores the couple had registered their fondest desires. "Well, none," replied the bride-to-be, explaining that she and her intended had lived together for almost a decade so they did not need household items, but they would love some help with their mortgage payments.
Indeed!
I remember when an older neighbor, whom I revered like a movie star, displayed her wedding presents on tables laid with white cloths in her family's rumpus room. Discrete cards disclosed the names of the givers of china plates, crystal water goblets and monogrammed towels.
Has anyone seen that lately?
Wedding customs and celebration styles evolve over time, of course, and just think how boring it would be if we all married the same way our parents and grandparents did. At the same time, a quick Google search brings home that evolution in short order. Here is a sampling.
Glamour magazine, aimed at women 18-49, which presumably includes plenty of would-be brides, opines that 2016 bridal gowns will include "boho" looks with crocheted fabrics, off the shoulder necklines worn with flowers in the bride's hair. On the other end of the all important gown spectrum, we can expect backless gowns with a sexier more glamorous vibe. I worry about brides with gigantic butterflies tattooed between their shoulder blades, a disconcerting look I once saw on a bridesmaid.
Speaking of bridesmaids, Glamour forecasts no more "uniforms." Instead we can expect mismatched dresses, a welcome trend to bridesmaids themselves who come in all shapes, sizes and colors and who welcome the opportunity to choose a dress that suits them individually. This sounds like a terrific idea to me as long as everyone agrees to stick with one color family, sky blue perhaps, and no one turns up in lime green.
Glamour also sees a trend toward brunch weddings. This is a cost-saving measure as the average cost of a wedding in the United States is now bumping up on $30,000. Yikes!
Brit + Co sees more casual weddings ahead this year, with barefoot brides and grooms, even more pets decked out in wedding regalia as attendants at the altar and comfort food served at receptions. This prediction is accompanied by a photograph of spicy tomato soup shooters topped by wedges of grilled pimento cheese sandwiches. Yum! And what a refreshing break from over-the-top reception food with ingredients we might not want to think about, like squid ink. A cousin once declared that no one is ever really married until she has consumed ten crustless chicken salad mini-sandwiches at their reception, but we do not see those often anymore either.
The Huffington Post has lots to say about wedding trends, including a piece entitled "Wedding Dresses That Aren't Strapless." Lest you are thinking Kate Middleton's lacey long sleeves, HuffPo's non-strapless looks include crop tops — not a great option for brides anywhere close to the upper end of Glamour's demographics, split- level dresses — short in the front and long in the back, jumpsuits and palazzo pants and dresses topped by swinging capes. The article includes a photograph of a bridal model heading down a runway wearing what appears – inexplicably – to be a set of sequin-adorned headphones. I am at a loss to think what a bride might want to listen to as she goes down the aisle to her groom.
Perhaps as a balance, HuffPo also features "50+ Wedding Dresses Fit for a Princess," which includes more traditional designs but not all would likely have passed muster with Buckingham Palace.
Also trending are non-traditional wedding parties in which not all attendants are contemporaries of the bride and groom. Think grandma in a bridesmaid's dress. I have actually seen this trend in action, although grandma wore a nice suit in a color that blended with the other maids' barer attire.
Speaking of non-traditional, Offbeat Bride offers suggestions on donating wedding leftovers to shelters or animal rescue groups and flowers to hospitals, shelters and the elderly, lovely ideas to me. It also shares homage toward "naked" wedding cakes, a treat for those who dislike icing.
The point of all this, of course, is for two people to set off on their lives together, and we all do it our way whether we elope to Dillon, marry in the back yard or spring for the extravaganza of the century. So, to all of those planning nuptials in 2016, we wish you a great time at your wedding and a long and happy marriage – whatever you decide to wear.