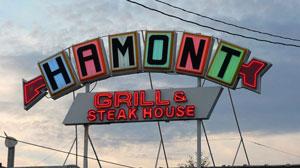 For more years than I can remember, Friday morning 7 a.m. breakfast at the Haymont Grill and Steak House was pretty routine for me. After all, 40-year-old habits are hard to break. Hundreds, no thousands, of people are feeling the sadness at the loss of a business that became a stellar Fayetteville institution over the past 60 years. Now, it's gone.
The history, the tradition, the haven that became a beloved gathering place, political stronghold and neighborhood sanctuary providing a warm sense of home in a proud and unpretentious Greek-American tradition is no more. Pete Skenteris, now 79, has been the owner of the Haymont Grill since he purchased it from Steve Fermanides in the 1950s. Skenteris' success is the epitome of the American dream. Pete, with his wife, Frederika, by his side, built his business and reputation on honesty, integrity and lots of hard work.
To me the loss of the Haymont Grill is personal - very personal. My first Fayetteville home was only blocks away. My best friend, Leonard McLeod, and I had breakfast at the grill almost every Sunday for nearly 25 years until his death in 2000. My son, Grady, and I also shared the tradition. Now living in New Jersey and working in New York, his visits home always included a visit to the grill. No doubt, fond memories are the ties that bind and I have hundreds of them.
Matter of fact, when you entered the grill from the Morganton Road side, the second booth on the left against the wall is where I actually conceived and started Up & Coming Magazine (now Up & Coming Weekly) in November 1995. I actually ran the newspaper out of that booth for nearly four months until I could afford a real office. Through the years, I have had countless business meetings with clients, brainstorming sessions with staff members and impromptu meetings with local leaders, business owners and educators in that booth. After we celebrated our 20th anniversary, Pete authorized a plaque designating that booth as the birthplace of Up & Coming Weekly, Fayetteville's community newspaper.
Unfortunately, we never got around to it. However, we did physically place that white Up & Coming Weekly newspaper box in front of his business 20 years ago. Today I picked up that very same box. While everything on the inside of this iconic restaurant may have been destroyed by the fire, I am happy to have one surviving memento that will serve as a reminder of the man, family and business that served this community loyally for nearly six decades.
The Haymont Grill was unique and endearing to our community. It may be rebuilt but it will never be replaced. Thanks for reading Up & Coming Weekly.