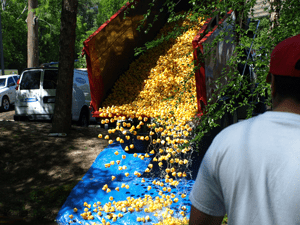 Well, another Dogwood Festival weekend in Fayetteville has concluded – and, wow! What a wonderful weekend it was. For anyone who has ever said, "There is nothing to do in Fayetteville," those words only expose the fact that you have not taken the time to enjoy, appreciate or become aware of your community.
This weekend, tens of thousands of people celebrated spring and a sampling of the local quality of life this community has to offer. I have to congratulate Carrie King, executive director of the Dogwood Festival, and the dozens of dedicated, hard-working community volunteers who helped put this wonderful event together. There was literally something for everyone with rides, music, food and fun all located on our streets and parks in downtown Fayetteville.
There are other Dogwood Festival sanctioned events that make this time of year very special and memorable: The Lafayette Ford Classic Car Show, the Miss Fayetteville Dogwood Pageant, Fayetteville Urban Ministry's Duck Derby and one of my favorite events, the Hogs & Rags Motorcycle Rally where hundreds of motorcycles and cars, led by our very own Fayetteville Mayor Nat Robertson and his wife Kim, ride more than 200 miles for local Fayetteville/Cumberland County charities. It was good to see the mayor involved and participating in the event. I also saw another elected official participating in an event. City Councilman Jim Arp and his son found themselves "up the creek" as they waded through the middle of Cross Creek retrieving wayward ducks after the Derby.
I must contend that the best-ever conclusion to this already wonderful weekend was the tour-de-force music performance at Snyder Memorial Baptist Church: The Festival of Keyboards. It was the perfect event to end a perfect weekend. Accomplished pianist, Joy Cogswell and seven other equally talented musicians entertained a full house, sometimes leaving the audience breathless and amazed with the music and talent of these local musicians.
Yes, Fayetteville as a lot to offer. In the long-term, we are going to be a great city as leadership emerges from a community that seems to have more heart and hospitality than it has common sense when it comes to vision and leadership. However, I am confident that we will get there because we have all the makings of a great community. So sit back, relax and enjoy this community in all its various and wondrous ways. The annual Fayetteville Dogwood Festival is just one way we showcase what our community has to offer. Thank you for reading Up & Coming Weekly.