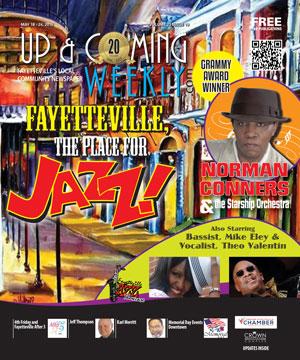 Michelle Ingram loves jazz and she loves to laugh. She left Fayetteville 28 years ago and cultivated her love of jazz in places far and wide. "I have a lot of musician friends from Colorado, California, Florida and it was fun to go see them perform," she said.
Ingram recently returned Fayetteville and was pleasantly surprised at everything there is to do here. "It was like Fayetteville just exploded. Places that I remember as fields and dirt roads have shopping centers and housing developments on them now," she said. While Fayetteville is definitely not the place she left almost three decades ago, Ingram is eager to be a part of the positive growth that has redefined the city — by bringing some of that jazz she loves so much to the community. "I moved here and my friends would call and they asked if there is a jazz club here," said Ingram. "And they were surprised when I told them there is not. Actually, I was surprised, too, because there is some amazing talent here. I think a lot of people are unaware just how much local talent there is here or how good the local jazz artists are. Or maybe because a musician is local they don't think of the performer as a big name. But if you look at where they have been and who they played with, they are big — and they are that good."
With a passion for jazz and comedy, connections in the music world, a deep pool of local talent, a growing city with a thriving music and arts culture, and experience promoting music events and venues in the past, it was clear to Ingram what she needed to do. She started Michelle's Jazz and Comedy Entertainment and started putting together the inaugural season of Fayetteville's Jazz and Comedy Showcase.
Instead of opening a jazz club, Ingram intends to host shows at different venues around Fayetteville. "I am thinking there will be a concert or comedy show every two months or so," said Ingram. It will be enough that people can look forward to quality entertainment, but not so much that they become uninterested." Her goal is to host a jazz festival in Festival Park in the summer of 2017 in addition to concerts and comedy shows throughout the year.
The first performance is scheduled for June 18 at the Metropolitan Room. The entertainment roster features an opening performance by Pete Everett and the Total Package Band, which is a touring international band playing original, jazz-infused rhythm and blues, funk, jazz and gospel music.
Poet Kwabena Dinizulu is set to perform also.
Vocalist Theo Valentin and bassist and musical director Mike Ely will perform as well as special guests Sam Rucker and Willie Bradley. Valentin sang her first solo for an audience in her church when she was just 5-years-old and her passion has never waned. She performed in high school and attended Norfolk University in Norfolk, Virginia, majoring in voice and minoring in piano. She's been performing ever since.
Saxophonist Sam Rucker is known for connecting to the audience with his music. With two albums under his belt, Rucker's original songs are not only encouraging, they are entertaining as well.
A son of Fayetteville, trumpeter Willie Bradley has a degree in music education and performance. He's played with pros including Dizzy Gillespie, Clark Terry, Frank Foster, Max Roach, Betty Carter and Nat Adderley.
Grammy-award winner Norman Connors and the Starship Orchestra will headline the show. A native of Philadelphia, Connors showed an interest in jazz at a young age. He met music legend and his personal idol, Miles Davis, when he was just 13. By his early 20s he'd signed a record deal with Buddah Records and scored several hit songs including "You Are My Starship" and "Valentine Love." His later songs include "Take It to the Limit," "Black Cow" and "Passion."
Set in a jazz night club setting, Ingram chose the Metropolitan room for its cozy feel. "There will be appetizers, which are included in the price of the ticket, and the tables will be for four instead of eight to make this an intimate experience."
There are two show times of 7 and 10 p.m.
Next in the series is the 100 percent Outrageous Clean Comedy Show on July 30. "Comedy shows are really enjoyable — laughing is important," said Ingram. "Sometimes big shows come to town, but at the end of the day, if you can go to a small venue and have a good laugh, that's just as good. So I try to bring more clean comedy to the area. I guess as you get older maybe you don't want to hear the profanity as much."
This event is at the Embassy Suites Hotel Ballroom. Entertainers include Dave Martin, Elaine Postman, Michelle Miller, Chris Petty and Ray Thomas.
Ingram says she is in this for the long haul and is pouring her heart and soul into the project with the intention of having a lasting positive impact on the community.
"I'm no one-hit wonder. I know other promoters have come and gone and maybe have left a bad taste in people's mouths, but I am here to stay."
Other shows scheduled this year include:The Hit Ladies of Comedy Show at the Embassy Suites Hotel Ballroom on Oct. 1; The Latin Jazz Explosion at The Metropolitan Room on Nov. 5; and The Heart of Christmas at The Crown Theatre on Dec. 3.
For more information, visit www.michellesjazzcomedyent.com/home.html.