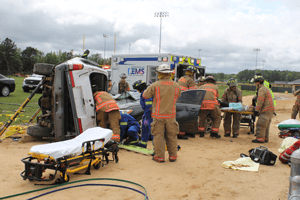 Horrible things happen that most teenage drivers don't see first-hand. TV and movie depictions are either cleansed of reality or somehow send a convincing message that it just isn't real. Too many young people decide they are safe because it wasn't them or their friends or their parents. And then one night, a North Carolina Highway Patrol trooper shows up at their home, and they learn that a car wreck killed their brother or sister or best friend forever.
Last year, the North Carolina Highway Patrol investigated vehicle collisions that killed 71 teens, ages 16 to 19. That's 71 classmates, 71 friends — not in the same school, but part of their generation, gone. Drinking, texting and speeding does that.
Highway Patrol Trooper Derric Reed brought a sobering message to seniors at Cape Fear High School eagerly looking forward to prom night and graduation ceremonies. The Keys to Life Program, used by law enforcement across the state, is one of the best ways to demonstrate to kids how disobeying the law creates consequences beyond what they ever imagined.
Students filed into the Colts' gymnasium, giggling and joking as teens do, but they quickly became silent watching in horror a gruesome video of teens hurtling around in slow motion inside a car as it collided with another. Groans were heard when photos of severed limbs appeared on the screen. Then, there was tough talk.
A judge repeatedly told the kids he would take their driver's license if they blew anything above a zero on a Breathalyzer test or got caught holding a buddy's beer. He wouldn't hesitate to impound their car, even if it belonged to the parents.
An Emergency Medical Service worker said that looking down and typing LOL (laughing out loud) on a cell phone was an impairment equivalent to drinking four beers. Trooper Reed pleaded to students to put the phones down and not to drink.
The teens saw two "collided" vehicles and a teen drunk driver portrayed by a theater student, wandering in a daze around the crumpled metal and lifeless bodies of her friends.
Paramedics were first to arrive at this mock accident scene. They quickly checked the pulse of the two teens who were thrown from the car. The paramedics covered them with white sheets.
Members of the fire department arrived, sirens blazing. They cut off the roof of one car to release injured occupants. Emergency Medical Technicians bandaged them, moved them onto stretchers and hoisted them into ambulances.
Uncomfortable with the strong message that this dreadful thing could happen to them or to someone they love, a few teens nervously snickered as they watched from the bleachers.
A state trooper used a Breathalyzer to test the driver. Inebriated, she was handcuffed and placed in a State Highway Patrol car to be taken to jail.
The trooper talked to her like it was a real event, and she nearly cried. Even though Alisha Bradshaw was acting, it felt like the accident was all her fault. She saw the deadly consequence of drinking and driving, and she was glad to bring this message to her fellow students.
The Keys to Life Program has become a major tool in getting the attention of high school students in Cumberland County and across the state. Studies show that teens often make risky decisions because the brain isn't fully developed until the age of 25. As has been said, one picture is worth a thousand words, and this visual depiction of a deadly accident scene makes a bigger impact on teens than words alone. Gov. Pat McCrory supports programs like Keys to Life that help keep school students safe.
Many thanks go to the members of Cumberland County's Emergency Medical Services, the sheriff's office and 911 communications center along with the Vander Fire Department and the University of North Carolina Hospital's life flight. These emergency workers know firsthand the importance of teens driving safely and responsibly. Kudos go to these emergency workers who took valuable time from their jobs to make the biggest impression possible on the 2016 graduating class of Cape Fear High School.