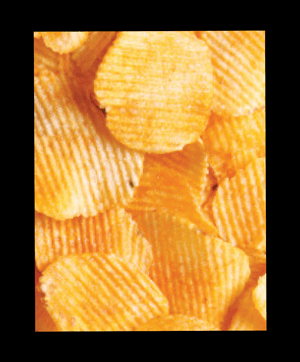 Let me be totally honest about this.
I have never met a potato chip, taco chip, corn chip or any such chip that I did not like. Wait! Full disclosure — that I did not actually love!! The crispiness! The saltiness! Perfection!
Now, I love a good chocolate chip cookie with nuts, too. If I could order it, my last meal would include chips of some sort — probably Ripples or Fritos — since salt and calories would not be issues at that point.
Most of us probably feel this way about something we should not consume, at least not often, and I guard against falling into the chip bag by not keeping them in the house. This works — most of the time.
Thank goodness, we have outside assistance to help save us from ourselves.
Bless its bureaucratic little heart, the U.S. Food and Drug Administration has just issued new guidelines about salt consumption. The agency aims to cut Americans' average salt consumption by a third with a goal of reducing heart attacks and strokes. This goal is particularly meaningful among mature folks like me, who — as one of my friend's doctors told her — are
"less young."
If we prepare most of our food at home and keep the saltshaker in the cabinet, salt is not so much of a problem. But if we eat a lot of prepared foods, including both packaged items and restaurant meals, salt can be the elephant in the room that no one wants to see. This statistic shocked me a bit, but the FDA says that more than 70 percent of salt in the average American diet comes from packaged and prepared foods.
Sadly, this includes my beloved chips, in all their glorious manifestations.
The good news is that along with heat and humidity, summer brings us its bounty of fresh fruits and vegetables — berries, melons, tomatoes, beans, peas, corn and so much more. All colorful, all easy to eat fresh or to enjoy with minimal preparation like spreading mayonnaise on bread for a tomato sandwich and all what we should be eating and serving those near and dear.
No need to get in a lather about this. There are not salt police peeping in our kitchen window. The FDA is simply working with the food industry to improve our health.
It is trying to protect us from ourselves.
Closer to home, East Carolina and the University of North Carolina at Chapel Hill have teamed up on a national study that has found strong support for raising the minimum legal age to buy tobacco products. This comes from the university system of the state where not so long ago, tobacco was the undisputed king of all agricultural products.
The study is expected to give legislators across the country political cover for raising the legal age from 18 to 21. "With these findings, policy makers and public health advocates can move forward knowing that people in their states support raising the minimum age for selling tobacco products," says Adam Goldstein of the UNC Lineberger Comprehensive Cancer Center.
Shockingly, at least to me, the Campaign for Tobacco Free Kids says that every day 2,500 children in the United States try their first cigarette and that another 580 of them become daily smokers.
Raising the minimum age may be a tougher sell in North Carolina than in some other states.
A Greeneville doctor and member of the North Carolina House of Representatives says, "I don't know that North Carolina is necessarily ready to take it up, but it's an issue that needs to be taken up. We are paying millions and millions in healthcare dollars because of the effects of tobacco use, and 90 percent of lifelong smokers start before the age of 18."
Another stab at protecting us from us.
My favorite and probably a doomed recent protective effort comes from New Hanover County where the local school board is considering a policy regarding leggings and skinny jeans. Should they be worn only under a long shirt or a dress that covers the rear end?
It is not entirely clear who or what is being protected here? Teenagers from pants too tight to allow ventilation or which cut off blood flow? Those around them from the sight of pants so tight nothing is left to the imagination?
No need to worry too much right now, though.
Social media erupted when a school board committee even discussed the skinny pants matter, and it is off the table for the moment. It seems that teenagers — and probably some of their parents — are loath to have limitations on fashion choices for the school day.
My hunch, as I sit here at my computer fighting off a chip attack, is that we weak and frail human beings can always benefit from outside guidance about our various choices.
We just don't want anyone to take away those choices.