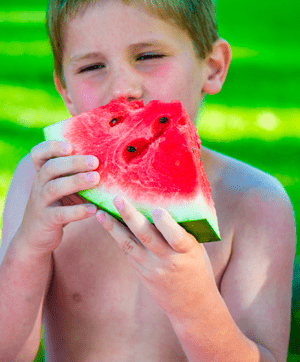 School's OUT!
Those words gladden the hearts of restless students and scare the daylights out of some parents who have to figure out what their children are going to do for nearly three months. The lucky ones are in family situations where parents can spend long, lazy summer days with their little darlings. The not-so-fortunate families must scramble for, piece together and finance various activities or daycare to make sure the children are occupied, happy and safe until the school bell rings again. The really unfortunate families just cross their fingers and try to get through the summer alive.
We all know that what we once thought of as the typical American nuclear family — dad bringing home the bacon and mom keeping the home fires burning — is a fond memory. Two incomes, which means two working parents, have become both the norm and a necessity. The New York Times reported earlier this month that only about one fourth of American children now have a parent waiting for them at home after school and during the 10 or 11 weeks that children are out of school for summer vacation. Says KJ Dell'Antonia in The Times, "For the rest of us, the children are off, the parents are not. We can indulge our annual illusion of children filling joyful hours with sprinkler romps and robotics camps or we can admit the reality."
That reality is that our traditional school calendar no longer fits the way most families now live today and that figuring out what children do over long weeks of summer is both difficult — almost impossible in some places and with some families — and expensive. The Times' analysis found that two summers ago, parents expected to spend an average of $958 per child for camps, childcare and other summer expenses. The Dicksons are blessed with three Precious Jewels, and even though they are long past school age, I remember the stress of summer — what are they going to do, how much will it cost, who will drive them to and fro, how much TV is too much TV? One of my favorite photographs is of a Precious Jewel in a crowd of other campers "graduating" from a week-long day camp in Mazarick Park — a line of elementary schoolers wearing paper plates on their heads secured by strips colorful yarn. As dear as that photo is, I also remember having to leave work to pick up my camper and a friend's child from Mazarick Park and take them home.
Keeping the Precious Jewels occupied and with luck learning something and safe during the summer months was challenging for the Dickson grownups, but we managed as do millions of other American families. The real issue, though, is that many families simply cannot.
The Times chronicled several of those.
A mother in Durham works in a daycare center, but she cannot afford to send her own 6-six-year-old there. Her only option for at least a portion of the summer is to leave him with his 12-year-old sister, who, naturally enough, resents having to babysit for weeks on end. Leaving children 6 to 12 alone, now termed "self-care," rises during the summer months, and can be dangerous, even criminal. A mother in South Carolina was arrested two summers ago when she left her 9-year-old in a park while she went to work. Friends and relatives fill in for many working parents, and not always graciously, sparking family resentments.
There are as many childcare arrangements as there are families who need them.
The long American summer break is a holdover from the days when school age children were needed for work on family farms, a rare situation now that most people reside in urban areas. European nations also have a summer break from school, but it is generally shorter, about six weeks. Not surprisingly, European children lose less academic ground over the summer than American children do, so that schools spend less time reviewing last year's material when they do go back into session.
In other words, their so called "summer slide" is shorter and less steep than is ours.
So what to do?
We hear periodic calls for longer school years and shorter summers. Some schools, including some in Cumberland County, operate year-round, with more, but shorter breaks, lessening the slide. But let's be realistic — there is no groundswell of support to do away with our traditional summer.
What we can do is support more investment in educational summer programs, both in schools that might otherwise go unused and in other recreational programs. It is better for children who at best might just be bored and at worst might be in physical danger.
Besides, you might really enjoy the sight of your Precious Jewel wearing a paper plate on his head.