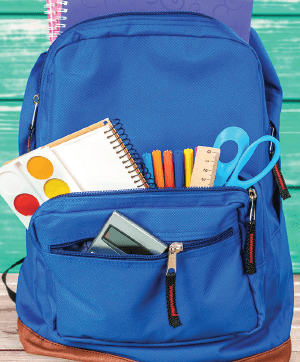 My students are my everything. I spent the entire summer wondering if they are eating well, reading and having fun. It is not an easy task for some students to obtain school supplies for the upcoming school year and that is why the Register of Deeds Office is having its annual backpack school supply drive for Cumberland County's homeless students.
The idea started when one of the senior staff members at the Register of Deeds Office expressed her concern that she was at church and a Fayetteville police officer had done a presentation about homeless students in the Cumberland County School System and the need they had for school supplies. It really bothered her and she wanted to help with that need. A staff meeting was held and all of the staff members agreed that they wanted to help. This was the beginning of a wonderful sentiment that has turned into an annual event.
"This is our ninth or 10th year that we have collected school supplies for backpacks for Cumberland County's homeless students," said Lee Warren, registrar of deeds for Cumberland County. "We have an awful lot of good folks in our community that whenever there is a need, they step up to the plate and help fill the need."
Warren added that they try to think of what a child will possibly need to ensure that they will be a success in school and start school with all of the same supplies that any other child will have.
The items needed include pencils, notebook paper, pens, binders, glue sticks, scissors, hand sanitizer, toothbrushes, toothpaste, toothbrush holders, notebooks, rulers, folders, composition books, pencil sharpeners, erasers and crayons.
The goal this year is to collect items for 600 backpacks for students. "For many years there were 800 homeless students and now there are 600," said Warren. "What we would like to do is work ourselves out of a job and not have any homeless students next year." Warren added that they are preparing 800 bags because in addition to preparing 600 bags for Cumberland County's homeless students, they are preparing 200 bags for other agencies.
School supplies, cash donations and gift cards can be dropped off at the Cumberland County Courthouse in Room 114 throughout the month of August.
"I anticipate that we will do the school supply drive again next year," said Warren. "This is something that really touched our hearts and we have done every year since."
For more information call 678-7775.