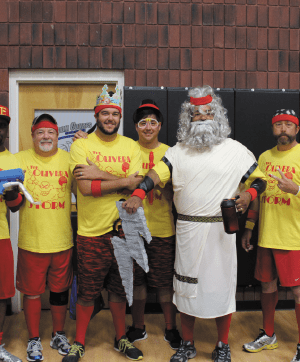 Better Health is a local nonprofit organization that aims to improve the quality of life for Cumberland County residents. It was founded in 1958 to help fill the gap in health careservices for underserved and low-income residents of the area. The organization offers educational classes and services like diabetes monitoring clinics and prescription assistance just to name a few. The services provided aid in the prevention and management of illness with education and medical assistance. In order to support its programs, Better Health hosts annual fundraisers. One such fundraiser is the Diabetes…Dodge it! Tournament. The tournament takes place on Aug. 27.
"Proceeds from the Diabetes ... Dodge it! Tournament go to Better Health and our four core programs: emergency direct aid, diabetes management, childhood obesity prevention and medical equipment loans. The funds will help us purchase emergency medications and dental care for clients in need, supplies for our diabetic patients, healthy snacks for children learning about nutrition, and maintenance of our medical equipment," Amy Navejas, the executive director of Better Health, explained. There are 32 teams of six to nine players registered to participate this year, which is hugely successful.
This success is due in part to the fact that the tournament offers both opportunities for fun and for supporting great work within the community. For many dodge ball brings back fond childhood memories. "I often get the response 'Dodgeball? I used to love to play that in school!' Most people add that they were good at it in their 'younger years,' but some are less confident in their skills now," Navejas said. "The great thing about this tournament is that it's all about getting active and having fun for a great cause. You don't have to be a team MVP like in your childhood to participate. We hope that this event reminds people that there is physical activity for everyone, whether yours is dodgeball, running or chair yoga, there is always an activity at your level."
With so much involvement from the community, there is a limit to the number of teams that participate in the tournament this year. So much participation is a great problem to have, but it is important to remember that playing is not the only way to join in the fun. "Spectators are welcome. This tournament doesn't disappoint. I tell people that they will laugh until they cry. For those who don't want to play, please come out to watch and cheer on the teams," Navejas said, " You can also come volunteer with us at our office at 1422 Bragg Boulevard. We are always looking for volunteers at our diabetes clinic and also at our upcoming Red Apple Run in November. Anyone interested can go to www.betterhealthcc.org to learn more about volunteering."
The overwhelming outpouring of support for the dodgeball tournament from the community has been invigorating for many involved with Better Health. The hope is that the community involvement will continue with the other events they host during the year. "Also, keep an eye out for our Red Apple Run for Diabetes on November 19. This year's run will include a 1-mile Haymount Hill Climb, a 5K and a new 10K route! Not to be outdone, the 2017 Evening at the Theater fundraiser on March 4 will be our 20th anniversary of the event! The committee has begun planning for a very special night at the casino! We are really excited about these events and having a chance to share a little bit about what we do for our clients in the community, and raise funds to continue providing much-needed services!" Navejas said.
For more information about the organization and upcoming events, visit the website at www.betterhealthcc.org.