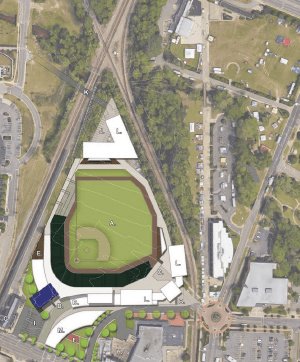 Is Fayetteville finally coming of age? That is the $64 million dollar question. On the surface, it sure looks like it. But, then again, we have all been fooled in the past. Let's look at the list: Docs, Festival Park building, J. P. Riddle Stadium, the Crown Coliseum, the County Jail and several times just on the Prince Charles Hotel. Not to mention the most recent ill-fated decision by our Fayetteville City Council to allow an auto parts junk yard to mar a great opportunity we had to develop our Cape Fear River resources. What were they thinking?
Only time will tell what our future holds. Fortunately, at least for now, the word on the street is actually pretty positive and enthusiastic about all the new developments taking place in our city. It's pretty obvious Fayetteville residents want positive change and want our community to step up. They are looking forward to the quality-of-life venues promised by our local government officials.
Taxpayers are waiting in anticipation to see what they are going to get for the money they approved and are being assessed for in the recent bond referendum. More importantly, they are waiting to see if our local elected officials have the talent, judgment or intestinal fortitude to get the job done. No doubt, the people's sentiments are being acknowledged loud and clear: passage of the $30 million Parks and Rec bond, approval by the City Council of the $33 million baseball stadium, creation of a downtown Arts & Entertainment District with the prospect of attracting $60 million of additional private investment and development for our inter city.
This is all good stuff, but, can it be managed? That's the ever-recurring question on the street. Fueling this skepticism and damping down the enthusiasm are Fayetteville's failed track record in real estate development, the recent lost opportunity to reverse the decision to allow a junk yard on the Cape Fear River, a weak City/County economic development organization, a weak and deteriorating Chamber of Commerce and, most recently, talk about having Fayetteville's Class A Advanced baseball team start its debut season playing baseball in another county!
Our new downtown stadium won't be ready for occupancy until 2019, so our new Fayetteville team would have to find another place to play ball. Moving it outside of Fayetteville for this period of time will take away the excitement and every initial opportunity to market, advertise, promote and brand this new baseball team as Fayetteville's own.
Building brand loyalty is extremely important to a product's success. Getting the Fayetteville community to support a team playing ball at Campbell University or anywhere other than in Cumberland County is virtually impossible. Serious thought needs to be given to this idea. The city will only get one chance at getting this right. Once they start playing baseball outside of Cumberland County, "the shine will be off the apple" and they will no longer be Fayetteville's team. This will make getting corporate support more difficult and establishing brand loyalty almost impossible.
These projects have our total support. These concerns are what people are talking to us about. They should not be interpreted as negative.
Thank you for reading Up & Coming Weekly.