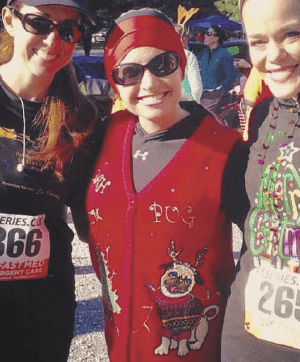 The SSG Robert J. Miller Memorial Chapter, commonly referred to as the Special Forces Association Chapter 100, presents the Green Beret Jingle Jog on Saturday, Dec. 3. It includes a 10K road race at 9 a.m. and 5K walk/run at 9:15 a.m. at First Presbyterian Church in Downtown Fayetteville.
"We are projecting 600-800 runners for the event", said Joseph Healey, president of Special Forces Association Chapter 100. "We are raising money for scholarships that we give away to families within the Special Forces fraternity."
The fraternity has over 200 active duty and retired Green Berets. The chapter is in honor of and named for SSG Robert J. Miller. He is a Green Beret who was awarded the Medal of Honor and is a hero to many people. On Jan. 25, 2008, SSG Miller was in a major firefight in Afghanistan and was shot in the upper torso. He continued to move around the enemy, which took a lot of fire away from his element. He charged forward through an open area in order to allow his teammates to safely reach cover. After killing at least 10 insurgents and wounding dozens more, he repeatedly exposed himself to enemy fire while moving from position to position. He was mortally wounded by enemy fire. His extraordinary valor ultimately saved the lives of seven members of his Special Forces team and 15 Afghan National Army soldiers.
Proceeds from the fun run are used to benefit the organization's scholarship fund. This year's goal is $20,000. Aside from the scholarships, the organization supports Green Berets and their families struggling with unforeseen circumstances such as Hurricane Matthew. "Yearly we give 10 scholarships for $2,000 for college kids of Green Beret families," said Healey. "We support all the Green Beret units on Fort Bragg, and if we have a servicemember in immediate need, we get a call and we take action on it." Healey added that the Special Forces Association serves as the voice for the Special Forces community, perpetuates Special Forces tradition and brotherhood, advances the public image of Special Forces and promotes the general welfare of the Special Forces community.
This is a family-friendly event. Leashed dogs and strollers are welcome. Early registration is $30 and ends on Nov. 30. Registration is $40 after Nov. 30. The Up & Coming Weekly registration code is GBJJUPANDCOMING. Race packet pickup is Friday, Dec. 2 from 5:30 p.m. – 7:30 p.m. at the Candlewood Suites located at 4108 Legend Avenue. Same-day registration and packet pickup is
Saturday, Dec. 3 at 7 a.m. at First Presbyterian Church. For more information and to register, visit http://www.active.com and type "green beret jingle jog" in the search box.