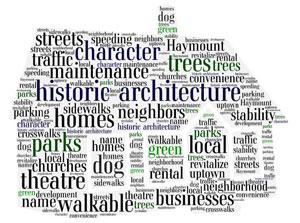 One of the Precious Jewels has purchased a first home in a North Carolina city, not unlike Fayetteville. It is a small, one-story bungalow from the 1930s that has been updated over the years, including the blessing of a master bathroom addition. The rest of the house remains as it was built, including an off-kilter fireplace that was apparently an homage to the Art Deco style so fashionable at that time.
The little house is in a neighborhood where people walk dogs and stroll babies along sidewalks installed decades ago by the city and chat with each other while they do it. School buses lumber by twice a day this time of year. Some houses are newer and much grander than the little bungalow with the funky fireplace, and some are slightly more modest. The residents are of all ages and heritages, and there is a university nearby so a student presence filters through as well.
In other words, it is a neighborhood much like Fayetteville's own Haymount, a smorgasbord area of single-family homes, several churches and the occasional garage apartment, with a small commercial district at its center.
Full disclosure. I have lived almost all my life in Haymount, in a total of six different houses scattered on both sides of Fort Bragg Road, ranging in age and style from the 1930s to midcentury modern. I loved them all for different reasons—the one I grew up in, my own first bungalow-ish house, the one the Precious Jewels grew up in and our final one with its easy grace and low-rise steps. I loved my neighbors, too—from the babies whose arrivals were announced with pink or blue bows to the old ladies who wore stockings even in August to the Haymount "characters" no one will ever forget.
Fayetteville city planners, and thank goodness, we have some, are now studying Haymount to determine not only how to preserve and protect its character but also how to enhance the neighborhood. At a time when Fayetteville is growing, especially with new residential developments, there is a sense of concern about preserving what we have for those who have loved living there for years and those who will love it in the future.
But Haymount has had some issues in recent years. A large home on Oakridge Avenue was torn down to make way for five newly constructed homes, but that old house is not the only one to have made way for more and newer homes. The same thing has happened along Raeford and Morganton Roads and side streets in between. Commercial interests have also been sniffing around, most recently and publicly a school proposed in an antebellum mansion on Morganton Road. Fayetteville City Council said a resounding no to that, but it is surely not the last request. And, the Haymount commercial area, including the famed Cape Fear Regional Theater, is far less than pedestrian and bike friendly. Finding some green space or a bench to watch the world go by is a challenge as well.
Fayetteville has established something called a Neighborhood Conservation District, which requires new construction to conform in scale and character of existing buildings, but no individual neighborhood has been designated thus far. Haymount would seem a likely candidate for that designation, maintaining the eclectic feel of the neighborhood without undue burdens on builders or homeowners who want to do something a little different. Such a district would set parameters but would not regulate color, style, renovations or demolitions, when necessary.
Much of the charm of Haymount is that no one would ever call it "cookie cutter" or even a "residential development" and certainly not a "subdivision." Haymount has grown up over more than two centuries and encompasses buildings from many eras and of many styles, ranging from the still vacant antebellum mansion to our midcentury modern to newer zero lot line construction. Its churches range from wood-frame buildings to a grand stone sanctuary, and commercial buildings from early 20th century to convenience store modern.
Count me among the cheerleaders for Haymount and for the careful study the City of Fayetteville is undertaking. Haymount, often referred to as Historic Haymount, makes our community unique and is among the memories people take away from Fayetteville. The study is an attempt to figure out this community resource and make it better not just for the people who live in Haymount but for all who visit there, shop there, eat there, worship there, see plays there and generally enjoy time there.
Other cities cherish their historic neighborhoods, like the one with the house with the funky fireplace. Fayetteville can and should as well.
I feel myself cheering already.
faillace ad, omni ad