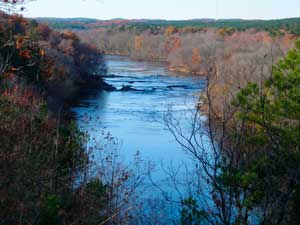 Over the years, Fayetteville has had an abundance of fresh, usable water. We are truly blessed to have the Cape Fear River basin in our backyard. However, like the rest of the world, the demand for fresh water has never been higher, and that demand will continue to grow.
Historically, cities have flourished being near an abundant amount fresh water. Yet we do little, if any, long-range planning for our river and/or our ground water. We have also put enormous pressures on our water supply. We have not looked at our water as it is; we have not utilized it to its fullest potential and we CERTAINLY have not placed any buffers (nor have we done any long-range planning) to protect or to ensure we have both the quality and quantity of water for future demand.
The interbasin transfer of the Cape Fear System has resumed, and alarmingly, is growing. This flies in the face of common sense. Why and how does an upstream city get to take and use water from one basin, then replace it in another basin, i.e., the Neuse River basin? It is illogical, unless the increased capacity allows them to take more from the Neuse River, getting double use of the same water at the expense of those downstream.
What does it matter? We have "water – water everywhere," as the poem goes. But like the poem also says, we soon may have "nary a drop to drink," or "nary a drop" to use. This would be a tragedy, as water is essential to life, essential to growth, and is the life's blood and identity of a community. It does not take a crystal ball to see the conclusion of unrestricted interbasin transfer.
1. As Wake county grows, so grows the demand for more water. A basin has finite capacity. When an upstream user takes from that capacity and doesn't replace it, the downstream users have less to use. This affects the ability of those downstream to grow, it detracts from economic recruitment – hence, a smaller pool of high-paying jobs.
2. A smaller capacity creates more pressure on ground water and on existing capacity, which makes treatment of water impossible.
3. It takes more water to treat water.
Interbasin transfer is just part of problem. Run-off, ground water contamination and failure to buffer our rivers are costing us daily in terms of unavailable, unusable water. It is estimated by 2030, half to two-thirds of our water will be unusable. If this is the case, we can only blame ourselves because we need to respect the laws we pass.
1. We continued to build neighborhoods with septic tanks and inadequate storm water run-off. They affect our ground water, which goes into our river.
2. The failure to buffer and plan for the use of our water fails to protect this resource and show we don't fully understand just how valuable our water is. It is a finite resource.
3. Our quality of life and ability to survive depends on our water supply. Yet we continue to take it for granted.
4. Fayetteville is the only city on a major river which, heretofore, did not have a major magnet center fully utilizing its river's natural beauty.
Finally, Fayetteville has a river overlay zone whose purpose was/is to attract people downtown and utilize the river. Every city that has done this has flourished — Chattanooga, Tennessee, Elizabeth City, New Bern, Wilmington, San Antonio to name a few. In doing so, they grew their tax base, created jobs, improved quality of life and made the river what it ought to be: priceless.
However, lawmakers, whose priority is to put loyalty to contributors over citizens served, have failed our river and its economic generator before it started. Water is not only essential to life, it is essential to growth, quality of life and is the life blood of a community. We must stop interbasin transfer, protect and buffer our basin abd use common sense by re-using our water wisely. Laws must be respected to matter. Ironically, we have laws in place to restrict interbasin transfer and run- off. We even have a river park zoned overlay. Yet, when laws and regulations are ignored, they are no longer laws, they're just words.