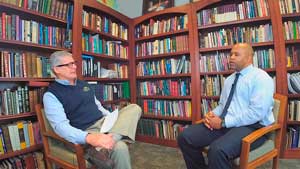 At Carolina College of Biblical Studies, we exist to disciple Christ-followers, through biblical higher education, for effective servant leadership. The question is often asked, "What's that look like?" Recently, I sat down with graduate William Wallace to see how CCBS affected his life and find out what he's doing since graduation.
Korver: Welcome William. How did you find out about CCBS?
Wallace: I attend New Life Bible Church, and I found out my pastor went here in the 70s. I had been going to the church about five or six years ... I liked the way he taught and it just always was kind of in the back of my mind. He taught the Bible very, very well; he was very confident in the way that he taught. Finally, I engaged him in conversation. He told me where he went to school and that's what started it. One day I dropped by and enrolled in a "How to Study the Bible" class.
Korver: You're a veteran? Which branch of service and how many years?
Wallace: I spent 25 years and 8 months in the United States Army. I came in 1990. I started off at Fort Bliss as a private, and I retired at Fort Bragg on Jan. 31 of this past year.
Korver: From the time you enrolled at CCBS until you graduated, how long were you here?
Wallace: It was almost five years … it was a little over four. It was, I guess, about the traditional amount of time, but it was kind of a tough mix in between doing CCBS and work.
Korver: So, you were managing a full-time job — a career — and being almost a full-time student?
Wallace: Early on, it started where I could only do classes in the evening, so I would do one or two classes. But as I got a little more comfortable and my job got a little bit more comfortable with allowing me time off, I started to do a few more classes in the evening. I was getting ready to retire, so the workload was beginning to decrease a little, so they began to give me a little bit of time off in the morning so I could do one class in the morning.
Korver: Now I'm asking a hard question here — out of all the 60 or so classes you had at CCBS, which one affected you the most and how so?
Wallace: Not a hard question ... homiletics.
Korver: Homiletics is…?
Wallace: The study of how to preach. That was what I believe my calling was. That's kind of what I wanted to do and once I took the first class, I knew it. I liked the structure of the class. I liked the blending of hermeneutics ... the way the class was delivered was great. That was, by far, the most influential for me.
Korver: And they affected you in the sense that you were better able to craft and deliver a sermon?
Wallace: Absolutely. Before then [I was] just kind of self-taught ... a lot of books had been read. But the ability to have some structure applied, timing, research methods. It helped a lot. It appealed to my military side, too, because the way the course was delivered was very structured.
Korver: Since you graduated, how has God used what you learned here in the classroom in your ministry at the church or on Fort Bragg at your job?
Wallace: Well at New Life Bible Church I've gotten the chance to assume some more responsibilities — I teach a New Life Bible Institute class. I teach a few more Bible study classes. It's made me more confident. I would almost say it's strengthened my relationship with Christ. It just gave me a confidence in God's word — that it is in fact true, and it does in fact work. Because I believe our life is completely filled, and should be completely governed by Christ, it has helped me at work. It has given me more confidence at work. It has helped tremendously.
Korver: Outstanding. Now you know this, higher education is not free. When you were a student here, how did your tuition get paid?
Wallace: It was a mixture for me. The military was allowing soldiers to transfer their G.I. Bill to family members. I had done that already before I even started here. So, it was a mixture of tuition assistance and out-of-pocket. If I had to give it a percentage, about 40 percent of my complete time here was tuition assistance and the rest out-of-pocket.
Korver: If you had to do it all over again, would you?
Wallace: For me, Dr. Korver, I would probably stay on the same track. I don't know if I was spiritually mature enough [before] to really have the "sticktoitiveness" that I had at the point when I started. I think for me, that point in time was great. I was active in a local church, I was at a different place financially in my life, spiritual maturity was strong. So, I think for me it was a good mix of time.
Korver: Well, we're really proud of you. Thanks for taking time to be with us today. God's blessings to you.