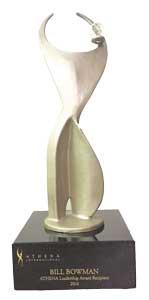 First of all, I want to say how proud we all are of our publisher, Bill Bowman, for being awarded the Greater Fayetteville Chamber's coveted Athena Leadership Award. Secondly, and speaking on behalf of our entire female staff, I want to say how proud we are to be a part this wonderful company. Bill is the first male to receive this award, and based on the emails, tweets and text messages, it has a lot of people scratching their heads. So, I thought I would provide a little background into the programs, products and activities his companies provided to promote, support and encourage the women in our community.
Trifecta of Success
In Bill Bowman's acceptance speech, he admitted he stands in the shadow of the many talented and dedicated Athena Award recipients who have nurtured, educated, encouraged and inspired women to greatness in our community: Suzanne Pennink, Linda Lee Allan, Jean Stultz, Linda Huff, Jan Johnson and Patricia Wright, to name a few. There are many people and organizations that do great things for the women of the Fayetteville/Fort Bragg community. They all are passionate about what they do and they all have the best intentions. But passion and good intentions do not always create a successful endeavor. Example: There were once three women-related entities in our community – a weekly women's networking organization called B.U.G.s (Between Us Girls), a quarterly ladies' luncheon and Fayetteville's Women's View magazine.
Each of these organizations was started by a woman with great passion and wonderful ideas, with the intent to encourage, empower, educate, develop and celebrate the women of this community. Unfortunately, even though the need was great, separately they all struggled to survive. The business networking group, B.U.G.s, had no place to hold its weekly meetings; the luncheon, though extremely popular, was imploding from its own success; and the magazine was scheduled to cease publishing.
These circumstances led Bill Bowman to step in and adopt all three projects. He knew the women of the Fayetteville community needed them and their demise would leave a major and painful void in the community. He saw the need and potential of these empowering organizations and how they positively influenced the lives of local women from all walks of life. Bill has a passion and natural entrepreneurial instinct for wanting to create a better quality of life for all Fayetteville residents. He'll admit "it takes a village," and the key to saving these three institutions was getting the right person to bring them together to create a women's advocacy tour de force.
That person was Keri "So Very" Dickson-Kittinger. She took on the task of fulfilling the mission and mandates of motivating, inspiring, developing and celebrating women. She is passionate and enthusiastic about the needs of women. This made her the perfect partner to carry out Bill's desire to bring all these organizations together to serve Fayetteville's women. Keri was the "Oh So Very" right person. Her spunk, energy, determination, love and empathy for the women of this community gave local women what they needed and wanted. Keri, as the leader of these organizations, has the passion and direction they need to grow and prosper. And they have. Together, here is what Bill and Keri "So Very" Dickson-Kittinger have done:
B.U.G.s (Between Us Girls) is led weekly by Keri Dickson with the assistance of Candy Sugarman and Jill Merrill. Businesses pay $25 a month for membership. B.U.G.s is a structured program with a plan for each month's weekly meetings to help develop, encourage and support women in business. Week 1 provides the opportunity for one member to share the struggles they face in their business so they can receive valuable feedback from the group to help them overcome the struggle. Week 2 is education week, which is designed to not only teach, but to challenge women to step out of their comfort zones and overcome the struggles they face in business. Week 3 gives members the opportunity to present their business to the group and is broadcast on Facebook Live. Week 4 is all about accountability. Keri follows up with the woman that was on the focus chair in week 1. She also follows up on the challenge issued in week 2, and members talk about the business referrals passed within the group that month. When there are five weeks in the month, week 5 is designed to help the members get to know each other even better to encourage referrals within the group. Keri likes to remind the B.U.G.s members that they are business owners, not hobby owners ("BOs not HOs," she says. You have to know Keri to receive that well). She reminds them that they are in business to make money, and it's okay to say that, because successful women with plenty of money help the community by giving back. The weekly B.U.G.s meetings keep these women in business strengthened, encouraged, connected, focused and motivated.
The Fayetteville Ladies Power Lunch is a quarterly event that encourages women and gives them the opportunity to connect with and uplift each other. There are vendor opportunities for businesses to present their products and services. At each luncheon, a woman with an inspiring message from within the community addresses the ladies and shares the story of her journey. Keri leads the advisory board that makes this event happen. Women have made connections at these lunches that helped them snag their dream job and live a more balanced life doing what they love to do. It's difficult to put into words how powerful it is to be in a room full of positive women.
Women's View magazine ties it all together. Women's View is written by the women of this community, about the women of this community, for the women of this community. This publication highlights local women who are working hard to make a difference. It takes a team to make it all happen and Up & Coming Weekly is proud of Keri and the team she and Bill have put together to promote women's initiatives.
All this said, they provide the women of the Fayetteville community the opportunity to pursue their dreams, to grow personally and professionally and to see success in their business and personal lives.
A special thanks to the many women who worked with Bill through the years to make this company the community powerhouse it is today: Merrilyn Bowman, Janice Burton, Joy Crowe, Jean Bolton, Suzy Patterson, Paulette Naylor, Sara Smith, Laurel Handforth, April Olsen, Linda McAlister, Beverly Pone, Judy Stapleton, Leslie Pyo, Elizabeth Long. A special thank you to, Karla Allen, creator and founder of Fayetteville's Women's View magazine and B.U.G.s, and Fayetteville Ladies Power Lunch founder Denise Mercado and charter board members Keri Dickson-Kittinger, Peggy Manning, Chi Chi Okoroofor, Jill Merrill, Cely Graham, Belinda Wilkerson, Dr. Mary Kansora, Joan Richter, Paulette Naylor and Stacy Simfukwe. Thank you, Candy Sugarman, Jill Merrill, Belinda Wilkersonfor your B.U.G.s leadership. Thank you, April Perton and Laneilyn Naylor of Grace Enterprises, for hosting B.U.G.s each week. And thank you to all the local women who support these projects.
Thank you for reading Up & Coming Weekly!