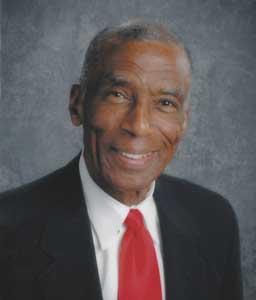 When I invited retired Col. Willie F. Wright into my office for an interview, I wasn't sure what to expect. Our publisher, Bill Bowman, had said to me: "Leslie, we need to do a piece on Willie Wright. He's just … this unsung hero of our community." Shortly after, our associate publisher, Stephanie Crider, sent me his resume. I saw an impressive education; a long and successful career in the Army; another successful career as an educator, coupled with membership on boards all over Cumberland County; awards such as "Most Supportive Principal" (1994-95) and "Mover and Shaker of Fayetteville" (2007); and a hefty list of organizations he volunteers with, many since the 1980s.
But none of that captured what I heard as I sat across from Willie and listened to him share his life and doings. As he spoke, he seemed to quietly enjoy an unwavering delight simply in being alive. Willie seemed at once completely at peace with himself and completely unaware of how impressive his credentials are. As our conversation unfolded, I heard a theme emerge: When you're doing what you love, in service to people you connect with and in turn love, too, life has a way of multiplying the chances to do that. I also learned that a person's motive for volunteering doesn't always have to be selfless — and that it's, in fact, perhaps more effective if you volunteer for partly "selfish" reasons.
In 1987, when Willie was a year out from retiring as an O-6, there were a few things he wanted to learn. "Now I don't know how you're going to shape this," he laughed, "but I'm just gonna be openly honest with you." His eyes crinkled and shone. "I was over at the craft shop on Fort Bragg. And this lady, Soni Martin, was (the director). I wanted to learn how to do matting and framing. So I said, 'You know, if I volunteer to help her, I will learn how to do it, and I'll be good at it.' So I volunteered. And the idea just clicked in my mind. If you try to help people, you'll also help yourself." After that, Willie matted and framed the back cover art of 25 Reader's Digest issues as gifts for his loved ones.
At that time, Willie said, he was also an avid reader. So he went to the Fort Bragg Library and offered eight hours a week of volunteer service. "I knew a list came out to the library of the best-sellers that would be coming … And I was able to put my name on the hold list before the books even arrived in the library!" he said with another laugh.
I could go on about Willie's volunteering. Like the fact that he's been a volunteer usher-turned-house-manager at Cape Fear Regional Theatre since 1989. Or that last year he turned down a well-paying job at Methodist University because "it would have interfered with me (volunteering at) CFRT ... and I really love being there … I meet so many nice people," as he put it. He has probably greeted you at the Crown and Fayetteville Symphony Orchestra, too.
But his Army and education careers deserve acknowledgement, too. When Willie graduated with a B.S. in Education from Virgina State University (then Virginia State College) in 1959, he was offered a Regular Army commission: a three-year obligation of service, which he served. The Army then offered to send Willie to graduate school — if he stayed three more years. After that, the Army said they would promote him early, to major — if he stayed three more years.
After a 30-year career in the Army, he held three master's degrees and did make his way back to education. He spent the next 27 years working in 12 schools across Cumberland County, once as a principal but primarily as a guidance counselor. Administrators just kept requesting him. Maybe that was because Willie carried his genuine love for people (and love for mutually beneficial situations) into his work.
For example, as principal of Edgewood Elementary (now Luther "Nick" Jeralds Middle) from 1993-99, he partnered with Fayetteville State University to create a free after-school program for students. FSU teachers got classroom space to work in, and elementary school students got to take free classes in subjects like early French or Spanish. Though Willie tried to retire from education in 2005, he wasn't quite "allowed" to until 2016. He was just too loved
and too needed.
When I asked how he could explain such an incredible pattern of success in his life, all he could offer was: "I just work hard ... I enjoy ... and like people. I try to operate on the principle that I'm in your shoes; what can I help you to do?"
Does Willie, having lived such a full life, have anything left he wants to do? Well, his daughters just took him on a birthday trip to Cuba, as that was somewhere he'd never been before. Now, he said, "I think I've just about done all I want to do except to continue to enjoy life and enjoy the people I work with."
So, if there's something you want to pursue, consider doing as Willie does: pursue those things right at your local library or theater or other organization, and allow yourself to receive in return. Recognize the exponential value in giving your time to serve people, in a position you genuinely enjoy. Also, read your local newspaper — Willie said that's how he found most of his volunteer opportunities. "It's all about people," Willie said. "Every individual is a human being. And almost all of us have the same needs … I've been very blessed."