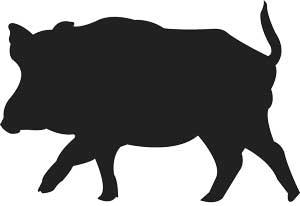 Publisher's Note: After reading Ms. Valentine's editorial submission recently published in the Fayetteville Observer (Sunday, May 7), we invited her to again opine on this very important and relevant issue. – Bill Bowman
Hurricane Matthew's flooding exposed a sordid fact that we've denied for years. Hog lagoons are still intimately entwined with the Cape Fear River, and our once-pristine river (once cleanest in the state) is now on the endangered list. Ironically, the answer may be a case of "back to the future."
We've been looking for a solution to hog lagoons for nearly 17 years. It is obvious that lawsuits, hog farm buyouts and further state regulations are not the solution. So, what is?
In North Carolina, hog production is big business — to the tune of $1 billion. That's a lot of influence, and it should not be underestimated. It is rumored that nearly 80 percent of the General Assembly receives political contributions from the pork industry. To be fair, the industry is doing its share to resolve the issue, having invested in research. It is also working to resolve the environmental issues company-owned and contract producers' open air lagoons create.
In 2000, then-Attorney General Easley made a deal with Smithfield Foods. The result was a $65 million grant from the company that would be used to develop new technologies to deal with hog waste.
N. C. State received $15 million with the understanding that the university would develop technologies that were less expensive than the current lagoon system and that Smithfield's company-owned farms would begin using the technologies once they were fully developed.
One such innovation was a belt system that would separate solids and handle waste more easily. It also reduced odors. Another included an earthen digester to produce biogas. The projects came close to the cost criteria but were still pricier than the lagoon systems, so the projects did not go forward.
In the meantime, a 10-year moratorium on building new hog farms gave Smithfield the opportunity to sell off company-owned farms. Now the company didn't have to honor its commitment or endure the added expenses of installing any new technologies.
That left $50 million in grant money. The funds were supposed to be administered by the Attorney General's office over a 25-year period. The monies were meant to be used as grants for projects that leveraged environmental improvements. The grants were to be competitive and would be for $1-2 million annually. The Attorney General would award them at his discretion.
Projects awarded under this program in 2016 for grant year 2017 by then-Attorney General Cooper included: $150,000 to the Nature Conservancy to buy 300 acres along the Black River; $425,000 to the N.C. Land Trust to buy 3,000 acres on the Waccamaw River; $37,000 to N.C. State to develop a fact sheet for farmers to reduce pollution along Millstone Creek and the Cape Fear River; and $250,000 to Ducks Unlimited to replace water control structures, remove debris and install pumps on the Pasquotauk and Tar-Pamlico River Basins.
These projects are worthy environmentally, but they don't help family-owned hog farms in their efforts to find cost-efficient lagoon alternatives. They also don't reduce odors coming from the barns, spray fields and lagoons.
Let's stop pointing fingers. Let's work together and support funding for collaborative partnerships that zero in on the core issue — solving the lagoon problem. The good news is that there are several people and organizations working on this problem, including entrepreneurial farmers, small agricultural businesses, universities (including Fayetteville State University) and nonprofits like Cape Fear River Assembly and River Watchers. Smithfield is working on the issue, too.The bad news is that none of them are working together. They are operating independently of one another.
Several of the technologies N.C. State worked on for well over a decade came close to meeting the environmental criteria. They could potentially meet the cost standards, too. Unfortunately, many of these technologies have been shelved or are being worked on in isolation, negating their potential.
We are running out of time. As the hog industry, much of which is Chinese-owned, relocates to drier climates out west, North Carolina family farmers are left wondering what the future holds for an industry that relies on hog lagoons located in flood plains.
Meanwhile, nonfarmers continue to dread the heavy rains that fill our sewers with sludge and bring flies and odors that send residents indoors.