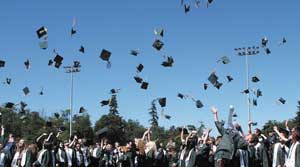 When my oldest walked across the stage at UNC Chapel Hill this past Mother's Day to receive her diploma, I could not have been prouder. Big days like this don't just happen. For more than two decades, countless people have invested in her and the entire class of 2017.
My daughter is a product of the Cumberland County Schools system. I am thankful for everyone in it who contributed to her success: the teachers who pushed her to do her best; the ones who called her out when she was trying to get away with doing less; the ones who saw her struggle and offered encouragement; the ones who taught her how to be an independent thinker; the ones who taught her to love reading.
I am thankful to the teachers who sponsored clubs that instilled in her a love of theater, debate, foreign languages, adventure and a sense of civility and love for her fellow man. I am thankful for the administrators who showed compassion when her dad was deployed and our family was struggling. I am thankful for administrators who were always kinds and professional.
My hat is off to the volunteers who spent time in her classrooms, held fundraisers to benefit local students and who helped in other ways I'll never know. I'm thankful to all of them — and so many more.
Having good-hearted, solid leaders who care for children at the helm of our education system makes all these things an everyday occurrence in this community. Cumberland County Schools Superintendent Dr. Frank Till Jr. is an excellent example of leadership, and he is serious about helping local students prosper.
His efforts have not gone unnoticed. Dr. Till recently received the North Carolina PTA Superintendent of the Year Award and the North Carolina Association of School Administrators 2017 Raymond Sarbaugh Leadership Award. They are well-deserved.
I know mine is not the only heart that is full this time of year. At commencement ceremonies across the country, proud families reflect and students celebrate, some showing their gratitude with messages like "Thanks, mom and dad!" on their mortarboards. That's not been the experience everywhere, though.
It has been disheartening to watch the news coverage of graduations at some other establishments, including the booing of Education Secretary Betsy DeVos's commencement speech at Bethune-Cookman University. Eventually, the noise became so disruptive that the school's president, Edison O. Jackson, interrupted DeVos to tell the students, "If this behavior continues, your degrees will be mailed to you. Choose which way you want to go." In addition to booing, several of the students had risen to their feet and turned their backs on DeVos.
Similarly, as Vice President Mike Pence took the stage to give a commencement speech this past Sunday at his alma mater, Notre Dame, a crowd of about 150 got up and walked out. While Pence did not acknowledge the walkout, he did note, "This university (Notre Dame) is a vanguard of the freedom of expression and the free exchange of ideas at a time, sadly, when free speech and civility are waning on campuses across America."
Pride and hard work and all the warm fuzzies of the season aside, as a mom and as an American, it breaks my heart that this is the platform some choose in voicing their views. I am a firm believer in the First Amendment and expect people to stand up for their beliefs. There is also something to be said for having a little class and a sense of occasion. There is a time and place for booing, for protesting, for dissenting. A commencement ceremony is not one of them.
Are we really turning out a generation of easily-offended, emotionally vulnerable snowflakes? For all our good intentions, has the helicopter parenting, coddling and overpraising backfired? Have we produced a graduating class across this country that is so self-centered and self-absorbed that sitting respectfully through one commencement address is just too much? I hope not. I choose to believe not.
Although there were clearly some who chose to ruin a day that was decades in the making at Bethune-Cookman University and Notre Dame, I choose to believe that the class of 2017 is going to make the world a much better place. I believe they are up to the task!