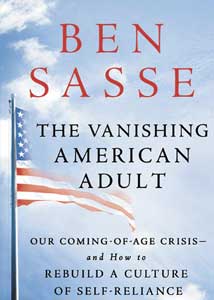 U.S. Sen. Ben Sasse (R-Neb.) just published a book. Not a diatribe about our paralyzed Congress, our dreadful 2016 election, or Democrats and Republicans duking it out all over our nation, Sasse's "The Vanishing American Adult: Our Coming-of-Age Crisis and How to Rebuild a Culture of Self-Reliance" suggests something else entirely.
Sasse writes that perhaps loving but overprotective parents have raised a generation of young adults who are not assuming responsibilities shouldered without question by their parents, grandparents and older forebearers. Perhaps our young folks need to step up to the plate.
Hello, millennials! Not everyone sees "The Vanishing American Adult" in this context. Some see Sasse's literary effort as the requisite book written by a politician with higher aspirations. Sniffed Alyssa Rosenberg in a review in The Washington Post titled "To Make America Great Again, Give Your Kid Chores," Sasse's book "comes across as an effort to set Sasse up for a larger role on the national stage."
Writing for The New York Times, Jennifer Szalai hints at the same motivation, describing the Senator as "a 45-year-old conservative whose political ascent has been remarkably swift."
Senator Sasse may well be positioning himself for the one office larger than the U.S. Senate, so stay tuned to what the former college-president-now-politician is up to and what he says.
Meanwhile, Sasse's newly-published book strives hard to make salient and painful points that have been made before by other authors and thinkers and which gives many American parents considerable pause. Think helicopter parents.
When one of the Precious Jewels, then a pipsqueak, headed into the third grade, I stopped by the school to meet his teacher, new to that elementary school. She confided that she had come from a school in a disadvantaged neighborhood where she never met a parent of any of her students. She had transferred into a school with high achieving parents who expected the same from their children. So many mothers had dropped by to tell the new teacher about their very special "Susie" and "Stevie" that the new teacher felt smothered and doubted her decision to change schools.
More than a little has been written about millennials, who have also been called Echoes of the baby boom, Generation 9/11, Generation Me, Trophy Kids and other terms generally applied to young people in western, developed nations. They have been described, as Sasse suggests, as self-absorbed, sheltered, pressured, confident, entitled and very special.
They are also seen as seeking a comfortable balance between work and personal life, having a strong social consciousness, collaborative work habits and enviable technology skills.
As a proud and full-throated baby boomer born to parents of Tom Brokaw's Greatest Generation, it is clear to me that collective life experiences define every generation. My parents' generation lived through the Great Depression, World War II and the postwar economic boom. They were thrifty,
deliberate and conservative in their work and
personal lives.
My fellow boomers and I grew up as part of the biggest demographic bump in American history to that point, requiring new schools and services at every stage in our lives, including all sorts of care services as we begin to fade into the sunset.
We ignited and survived the great social upheaval in our nation during the 1960s and 70s and were also labeled self-absorbed and all about "me." In our waning years, we also helped elect Donald Trump president of the United States.
So, it is no surprise that millennials have been and continue to be shaped by the world they encounter. They were children and college
students when the trauma of 9/11 forever
changed our nation.
They are the most diverse and highly educated generation in American history, yet they still face the fallout of the Great Recession. As they establish careers and families, they no doubt have read speculation that they will never achieve the financial stability their parents have enjoyed.
They do not remember a time without computers and increasingly powerful technology that allows access to the entire world Instantaneous communication is their way of life. Their world is unlike those of their parents and grandparents, so it is hardly surprising that they are different
as well.
I suspect the criticism Sasse levels at millennials — and by extension, at their parents — carries both kernels of truth and a shallow understanding of one generation from another. I also suspect Senator Sasse has his eyes on our nation's biggest political prize.