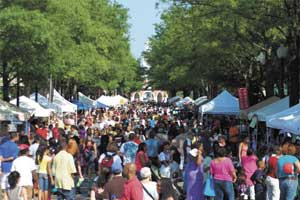 Hit: Congratulations to Fayetteville's 35th annual Dogwood Festival, possibly the best ever, recognized as among the top outdoor family events in the south.
Miss: Why are three city streets that connect Grove Street with Person Street inaccessible because bridges are out? The Ann Street bridge has gone without repairs for so long that it's overgrown with a thicket of trees.
Hit: Thank you to the City of Fayetteville's Budget staff for its comprehensive evaluation and understanding of the $200 million FY18 operating budget. Staff answered virtually every question council members brought up regarding the proposed FY18 budget, all of which helped councilmen and woman to keep the budget in perspective.
Miss: Cumberland County is not taking action on declining local residential property values when the problem was first recognized eight years ago. Now, Fayetteville and Cumberland County comprise the only metropolitan area in North Carolina where property values have gone down.
Hit: Kudos to business developers for building out most of the remaining commercial property along the south side of Skibo Road. Every new business adds to the tax base and takes some heat off
home owners.
Miss: Too many rules and restrictions confuse residents when they dispose of yard debris. Many people have no idea what they're supposed to do. Pine straw and leaves are being raked to the curb and left there, sometimes for weeks, for the city to pick up.
Hit: Fayetteville's Airborne & Special Operations Museum was named one of the top military museums in the country. It's truly a world-class museum.
Miss: City officials continue to allow a dozen ugly and smelly garbage cans to illegally block downtown Fayetteville's Old Street and mar the beauty of the historic area.
Miss: Dear drivers in Fayetteville who think an amber traffic light means speed up to get through the intersection before the light turns red: You're wrong! Green to amber means caution … slow down and prepare to stop.
Hit: Thank you, City of Fayetteville, for repaving streets in the Montclair neighborhood that were literally worn out when they were used as a detour during the years that Glensford Drive was being widened between Raeford and Morganton Roads.