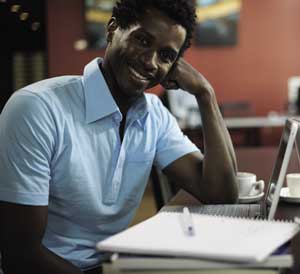 Most adults will make many changes during their working lives. At FTCC, there is a valuable resource students can use to help them decide where to go for career guidance.
Many students enter college feeling overwhelmed about where to start or what to focus on first. The JOBS Center at FTCC specializes in administering career assessments to help students uncover the education, training and specialized tasks needed for individualized careers.
The career assessments match skills and interests and motivate students to think about how well-suited they might be for a particular career. Assessments also provide a blueprint for identifying strengths, options and possibilities and can help safeguard students from pursuing a career that may not be the best match for them. And the nice thing about taking a career assessment is that there is no need to be worried about right or wrong answers, as there are no wrong answers!
Career Coach is another resource used to help students make better career decisions as well as match students' interests with programs offered at FTCC. FTCC offers over 230 programs leading to the award of an associate degree, certificate or diploma. For students who wish to continue studying at four-year colleges and universities, FTCC offers college transfer degree programs that aid in completing the requirements for a bachelor's degree and beyond.
Coming into the JOBS Center can help alleviate one of the greatest drawbacks to career assessments: belief that the result is the "solution" to all career woes. Without professional guidance and the right preparation beforehand, a person may risk wasting a great deal of time and effort on pursuing a career path that doesn't suit them.
At the FTCC JOBS Center, we know choosing a career path can be challenging and many questions can flood a student's mind before making the right choice. Students may ask themselves questions: "How much education is needed for a particular career? How much money will it take to earn the education? How long will it take? How much money will I earn in a particular career? What is the job outlook for my career?"
For students or potential students who are asking these questions, get started on the right track and visit the JOBS Center at the Tony Rand Student Center located at the Fayetteville campus of FTCC in Room 128. Study for an exciting career in health care, business, computer technology, engineering and applied technology, public service or general education. Registration for summer and fall classes is currently underway.
You can make the smart choice for your education at Fayetteville Technical Community College and quickly be on the path to a new beginning in life, regarding your career. The FTCC JOBS Center staff will be happy to assist you in your search for the perfect career.