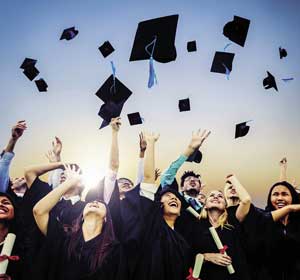 Graduation exercises occurred all over the country in May and early June. Several million high school students completed high school. For them it was the culmination of 12 years of schooling. Hundreds of thousands of others graduated from colleges and universities. Their degrees represent years of hard work, sacrifice on their part and often sacrifice on the part of others.
Regardless if it was a high school diploma or a degree from a university, graduation marks the completion of a prescribed program of study. It also means the graduates are transitioning to the next phase of their lives. Carolina College of Biblical Studies recently celebrated its 40th commencement with 30 men and women earning degrees.
The degrees earned were varied. They included Associates and Bachelors of Arts degrees in Biblical Studies as well as Associates and Bachelors of Arts degrees in Leadership and Ministry.
Additionally, several students received one of the six minors CCBS offers, which are in Pastoral Ministries, Biblical Languages, Apologetics, Christian Education, Biblical Counseling and Intercultural Studies.
Rightly, we celebrate our graduates' accomplishments. They persevered through a rigorous course of study and most have many other responsibilities such as family, work and ministry in their local church. Now that they have graduated, we cheer them on to lead and/or launch healthy ministries worldwide. A few of this year's CCBS class of 2017 include:
A military wife stationed, along with her husband and children, in a country in Europe. Through CCBS's online degree programs, she began and completed her degree without ever having been to our Fayetteville campus. God will continue to use her as she ministers to her family and to other military personnel and people in her community far from North Carolina.
A young pastor from the Sanford area. He leads a healthy growing Hispanic congregation in Lee County. His congregation often partners with other churches in that area to ensure that others who have not heard the good news of Jesus's offer of life have an opportunity to hear the life changing message.
A seasoned pastor who, before enrolling at CCBS, had no formal theological training. Sensing a need to fill this void, he enrolled at CCBS while simultaneously launching a new church as well as volunteering to be a chaplain for a local high school football team. He persevered and is now one of our
newest graduates.
These are only three of our recent graduates. There are 27 others in this year's graduating class. Each one has a unique story and set of circumstances.
Yet in some ways, they all share at least two things in common. A few years ago, they all sensed the need for a biblical education and their personal need to know God better and God's word, the Bible, more thoroughly.
The other thing they all have in common? They all, despite challenges, refused to quit. They tenaciously did the work and now have finished their course
of study.
Perhaps it's time for you to begin the enrollment process too? All 30 of these men and women did and now are graduates.