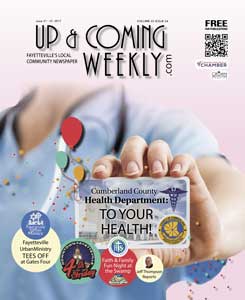 Public health departments are essential to healthy communities. Unlike primary care providers, which assess and treat individuals, health departments focus on improving the health of an entire population.
To do this, health departments analyze the unique health needs of their community; create policies that address and advocate for those needs; and implement and evaluate health programs. They also provide a variety of health services.
On the Cumberland County Public Health Department website, the organization lists the following qualities as central to its mission of improving the county's health: innovation, collaboration, integrity, diversity and quality.
INNOVATION
The CC Health Dept. is funded by federal, state and county tax money. This funding enables the department to provide services in 23 distinct areas, such as clinics, disease control, environmental health, health education, immunization, health in jails and schools, maternity care and more.
For innovative projects beyond this funding, the department must apply for grants — and it does. Recent grants include:
• 2015: $3,000 for a diabetes education program
• 2016: $2,000 to improve children's dental services
• 2016: $500,000 for a family planning and teen pregnancy prevention program
•2016: $1,500,000 for a four-county initiative (Cumberland, Hoke, Montgomery and Richmond) for maternal child health
• 2017: $9,000 to hold a Food and Drug Administration food safety forum, print food code books and provide staff training for the NC Food Safety Defense Task Force
Dr. Jeanette Council said the department's Food Safety Forum, held May 23, was open to industry regulators and the public. Council is a member of the Cumberland County Board of Commissioners and is on the Board of Health.
The forum, she explained, provided information on how to properly handle, prepare and sell seafood. The forum is an example of the kind of perceptive problem-solving our health department regularly initiates. The department saw a unique source of illness in our community and proactively addressed it.
COLLABORATION
Innovation is, in Health Dept. Director Buck Wilson's eyes, often directly tied to collaboration. He has served as director since July 2009 and leads by example, serving in cross-organizational leadership at local, statewide and national levels.
Wilson is Chair of the NC Healthy Start Foundation, which aims to "(eliminate) preventable infant death and illness in North Carolina." Both previous governor Pat McCrory (in 2013) and current Gov. Roy Cooper (in 2017) appointed Wilson to the NC Child Fatality Task Force, a legislative study commission that helps create laws to keep children safe from abuse and neglect. Wilson currently co-chairs that task force.
In 2014 he was invited to serve on The NC Center for Public Health Quality Advisory Board. The center, according to a press release, "provides quality improvement training and technical assistance programs to public health organizations nationally."
Recently, the Health Dept.'s maternity clinic collaborated with Duke University on the three-year "Baby Steps" study. The study, initiated in 2014, examined the effects a supportive text-messaging program could have on helping pregnant women quit smoking. Results of the study are currently being processed at Duke and will be released soon.
Council said the Health Dept. and Board of Health also led the charge in requesting that all county properties become smoke-free.
Collaboration doesn't just happen cross-organizationally. The Health Dept. holds a management meeting the second and fourth Friday of each month, comprised of a senior leadership team and 23 middle managers. "We do a roundtable where we talk about the work that's being done in each of the (areas)," Wilson said. "It's my favorite part of every meeting. I always feel so proud."
Wilson said the team deals with many unforeseen challenges. "Our team has a way of putting everything else aside and coming together to put the public health first," he said. "We've had situations where there was a potential outbreak of a communicable disease." Council said the team recently stopped potential Hepatitis A. and salmonella outbreaks at two different restaurants. She added that during Hurricane Matthew the Health Dept. worked in the Emergency Operations Center and all the shelters. "They are an essential part of our Emergency Management Team," she said.
INTEGRITY
"I don't really have a hobby," Wilson said. "My hobby is trying to do for people and help people. It sounds cliché, but I really, really like to make things better and help in some way. I don't golf, fish or hunt. (But) when I'm helping pass a law on state level that will save the lives of children, when I'm part of a team effort that's helping to make things better … it's a great thing."
Wilson explained that in many ways the Health Dept. is a safety net for people who can't get care or services elsewhere. "There are things we do that are people's last resort," he said. "If people are getting primary care or cancer screenings here, they may not be able to get it anywhere else." The Health Dept. is also the sole provider of the world travel vaccine (essential in this military-centric city) and restaurant and public pool inspections.
In January of this year, the department offered free flu shots to uninsured children from six months to 18 years old. Individuals with insurance were able to receive a flu shot at no out-of-pocket cost if they had Medicare, Medicaid, North Carolina Health Choice or Blue Cross Blue Shield.
DIVERSITY
The value the Health Dept. places on diversity can easily be seen in the wide array of services it provides. "I am fortunate, and Cumberland County is fortunate," Wilson said. "We have (a) tremendous staff that work(s) really hard. … We have lots of different disciplines that all have a passion for helping people. We have a leadership team that truly cares about trying to do what's best for our community. And we have a Board of Health that's very supportive of the work we do."
QUALITY
In 2013, Buck Wilson was named NC Health Director of the Year by the NC Association of Local Health Directors. Two years later, he was elected president of the association, following 13 years with that organization and service as secretary, treasurer and vice president. He has continued to serve in a past president role due to the current president being unable to serve.
Wilson is not alone in his dedication. In 2012, Daniel Ortiz, the Health Dept.'s public health environmental supervisor, was appointed to serve on the Well Contractors Certification Commission. In this position, Ortiz helps to ensure clean, safe water is provided to communities statewide. Public health nurses Lynetta Allen-Geddie, Connie Owensby and Corliss Parson have served the community for over 25 years.
The Health Dept.'s Quality Improvement Team regularly conducts events and studies with the aim of increasing organizational effectiveness and efficiency. A recent example includes the Kaizen Event last March, which reviewed the department's newly-implemented central registration. The QI team solved a staffing coverage issue identified during the morning peak time for central registration. The team also changed the waiting line layout to improve overall visibility for staff and patients, improving customer service.
Cumberland County, as Wilson said, is very lucky. "This is the community I live in; I want my community to be better," he said. "This is the state I live in; I want my state to be better."