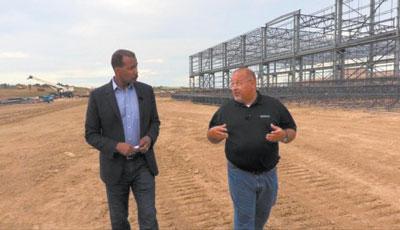 I predict next year's Fayetteville City Council will bite the bullet and raise your property taxes. That's my prediction. Here's why.
The Council kicked the can down the road and passed an election-year budget. If you notice, two Council members who are not running for re-election were ready to give City Manager Doug Hewitt what he wanted: a tax raise to recoup the money the City is losing from lowered property values and then a little more to sweeten the spending pot.
A majority of those running for re-election would have none of it. Instead, they let Hewitt slip in a $60 annual hike into your garbage collection fee. But they never cut spending. Instead, the budget had enough padding to allow a 1 percent increase in spending. It befuddles me. How can you earn less money but spent more? Well, does government ever spend less?
Here's my problem with how this tax and spend culture works … and I've been yelling about this for years. We cannot forever dip into the property tax well for new spending programs. I know the City says property taxes don't pay for everything and that there are other sources of revenue. That may be true, but tell that to the retiree on fixed income whose property taxes (or fees) keep going up.
The City has ambitious spending plans for all sorts of amenities. I worry that we are focusing on the icing of a half-baked cake. Don't get me wrong, I like icing. But it needs a sturdy foundation. Here's what I want our City Council members to do: Take charge and recruit meaningful industry — build a foundation. I'm not talking retail, but the kind of industry that invests in high-dollar facilities they won't easily abandon.
Let's recruit the kind of industry that pays enough for people to raise a family and buy a house. Let's chip away at Fayetteville's above-state-average unemployment rate. Let's build a strong tax base.
Here's an idea. Let's spend a few hundred dollars on a first-class plane ticket and invite Joe Max Higgins to Fayetteville. We can put him up at one of our finest hotels, show him the sights at Fort Bragg, Fayetteville State University and Methodist University and maybe even take him to a SwampDogs baseball game. Then we put him in a conference room with our best and brightest and pick his brains for a couple of days.
Joe Max Higgins is not a character from "Talladega Nights" or the son of a preacher man, although he is the son of an Arkansas sheriff.
But that's not what makes Higgins special. Here's his claim to fame. Since 2003, he's brought more than 6,000 manufacturing jobs to the poorest area in the poorest state in the nation, Mississippi. It's an area the locals call the Golden Triangle.
It had at one time a 20 percent unemployment rate, and other than Mississippi State Bulldogs, there was not much left in the area after the Sara Lee slaughterhouse and a couple of other factories bailed in the late 1990s. Cotton and textiles also left.
Civic leaders hired economic developer Higgins away from Arkansas for a hefty annual salary, and like a bulldog himself, he went to work.
So far, he's recruited an automated steel mill where former sawmill workers tripled their salary; a helicopter plant where 200 workers build 50 helicopters a year for military and law enforcement; a truck motor plant using robotics operated by 500 employees; and a tire plant, just like we have in Fayetteville.
Part of Higgins' success comes from his winning kick-butt attitude. Just look at his GTR LINK Facebook page displaying four championship rings with the following inscriptions: Airbus, Dynamic Steel, PACCAR and Yokohama Tires.
The tagline says it all: In the Golden Triangle, We Play to Win. Maybe here in Fayetteville we can play to win and not depend on the whim of retail therapy to ensure our future.
PHOTO: Since 2003, Joe Max Higgins (right) has brought more than 6,000 manufacturing jobs to the poorest area in the poorest state in the nation, Mississippi.